Top five landing spots for Jake Peavy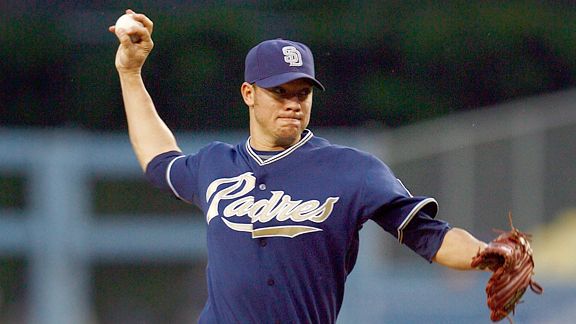 The White Sox thought they had added an ace last week when they worked out a deal with the Padres that would have sent (among others) their top two pitching prospects – Clayton Richard and Aaron Poreda – to San Diego in exchange for starting pitcher Jake Peavy. But with his desire to stay in the National League at the forefront of his decision, Peavy exercised his no-trade option and nixed the deal before it was completed.
Now that that deal has been squashed, where will Peavy wind up when the curtain closes on the 2009 baseball season? Or will he even be traded at all?
I've ranked the top 5 landing spots for Peavy and why each club will and won't land the San Diego ace.
1. Milwaukee Brewers
Why they'll land Peavy: If the Cubs' offense continues to struggle, then Chicago will more than likely trade for a bat instead of adding another arm to its starting rotation. With the Cubs seemingly focused on their offense, a path could clear for the Brewers to make the Padres an offer for Peavy. Don't forget that the Brewers surprised a lot of baseball pundits who believed they would never trade top prospect Matt LaPorta for ace CC Sabathia last season, but Milwaukee did just that. So while the Brewers don't have the young pitching prospects that San Diego might covet, they certainly have a ton of young position talent that they could offer to pull off a deal. Plus, even though they lost Sabathia to free agency in 2009, Peavy would be under contract through the 2013 season, so at least the Brewers wouldn't have to worry about giving up more top prospects for a pitcher that'll walk again at the end of the year.
Why they won't: After almost acquiring the White Sox's top two pitching prospects, indications are that San Diego is looking for young arms in exchange for Peavy – which Milwaukee simply doesn't have. The Brewers have a slew of young position talent, but outside of Jeremy Jeffress they don't have many top arms in their farm system. If the Padres have their heart set on acquiring starting pitching, they'll have to look elsewhere, because the Brewers just don't have enough to make a worthwhile offer. Plus, a small market team like Milwaukee might eventually be scared away by the $63 million ($11 million is still owed to him in 2009) that remains on Peavy's contract.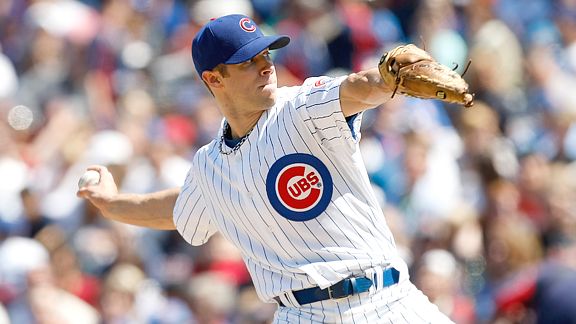 2. Chicago Cubs
Why they'll land Peavy: Because outside of the White Sox, they've come the closest to landing Peavy to date. During baseball's winter meetings in December, a rumored deal involving the Cubs, Padres and Phillies was reportedly on the table, with Chicago landing Peavy, Philadelphia acquiring Mark DeRosa and San Diego getting Jason Marquis and two pitching prospects from the Phillies. But the Cubs eventually walked away from the negotiation table because the Padres' and GM Kevin Towers were asking for too much in return. But after their cross-town rivals the White Sox almost landed him, the Cubs might have been awoken to the possibility of once again pursuing Peavy. And considering they've lost seven in a row and just placed Rich Harden on the 15-day disabled list, the Cubs could use a shot in the arm like Peavy, because they're certainly built to win now, not later.
Why they won't: The Cubs current seven-game losing streak has nothing to do with their pitching staff – it's their offense that has recently let them down. They've averaged less than 1.5 runs per contest over their last seven games and if they were to make a trade soon, it would probably be for a bat – not another arm. Plus, Harden's injury isn't considered to be serious and the club just got Carlos Zambrano back from the DL. Throw in the fact that Ted Lilly, Ryan Dempster and even Randy Wells (who had been filling in for Zambrano and will remain a starter now that Harden has been placed on the DL) have been very good so far this season, and one would get the impression that the Cubs' starting rotation is set this year.
3. San Diego Padres
Why they'll hang onto Peavy: Everyone is assuming that GM Kevin Towers is desperate to trade Peavy, but that's not necessarily the case. Remember, Peavy is already under contract through 2013, so it's not like he's a soon-to-be free agent and the Padres are scrambling to get something for him before he hits the open market. Plus, he's pitching well this season and San Diego is currently one of the hottest teams in baseball. The Padres are not expected to be competitive for an entire season, but if they continue to win, Towers might not feel as inclined to deal his ace this year. (Or at least not before the trade deadline.)
Why they won't: They might not be completely desperate to trade Peavy, but they are desperate to get the rest of his $63 million salary off their books. Peavy is still owed $11 million this season and another $52 million through 2013 and San Diego would rather free that money up as they try to rebuild through youth. If Towers could get two top pitching prospects and free up some salary, he's going to jump at the opportunity just as he did when the White Sox offered Clayton Richard and Aaron Poreda before Peavy exercised his no-trade option.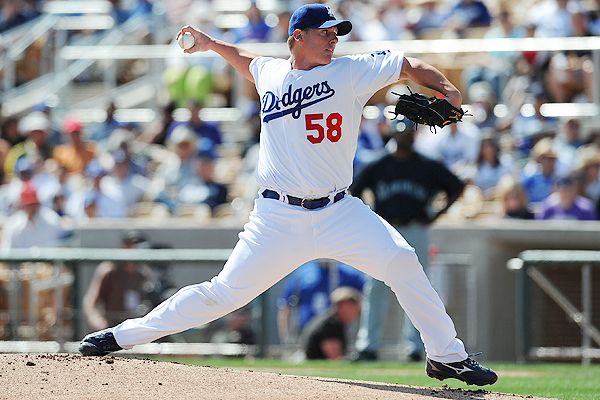 4. Los Angeles Dodgers
Why they'll land Peavy: Considering they're up against mostly Triple A teams in their division, it's probably safe to assume that the Dodgers will win the NL West walking away. But pitching wins in the postseason and while the Dodgers' starters have been absolutely phenomenal (they have a staff ERA of 3.74, which is the lowest in baseball), Peavy could put L.A. over the top. GM Ned Colletti at least has to kick the tires on a trade with San Diego, because a starting four of Peavy, Chad Billingsley, Randy Wolf and either Clayton Kershaw or Eric Stults would be deadly in the postseason.
Why they won't: The Padres and Dodgers both play in the NL West and you just don't trade within your division. Chances are, Padres GM Kevin Towers would ask for a small fortune in a deal with the Dodgers and therefore Peavy might not be worth the money and prospects for L.A. in the end.
5. Chicago White Sox
Why they'll land Peavy: While rumors persist that he wants to stay in the National League, Peavy admitted that he and his agent aren't closing the door on the White Sox, who were willing to give up two top prospects to acquire his services. If the Padres start to sink to the bottom of the NL West, maybe Peavy will get anxious to play for a contender and accept Chicago's deal, which still stands assuming the White Sox are in contention themselves later in the season.
Why they won't: Peavy seems pretty steadfast that he wants to remain in the NL and has already rejected the opportunity to join the White Sox. While it's not completely unfathomable, it would be surprising if he changes his mind and accepted a deal to play for the Sox and in the AL.
Other possibilities: Braves, Astros and Cardinals.
Peavy mentioned these three clubs (along with the Dodgers and Cubs) as possible teams that he would like to play for if he's traded, although the Astros and Cardinals would probably balk at the idea of taking on Peavy's salary. The Braves could be a potential dark horse team considering they were already engaged in talks with the Padres over Peavy last winter.