Edwards says he wants to remain a Brown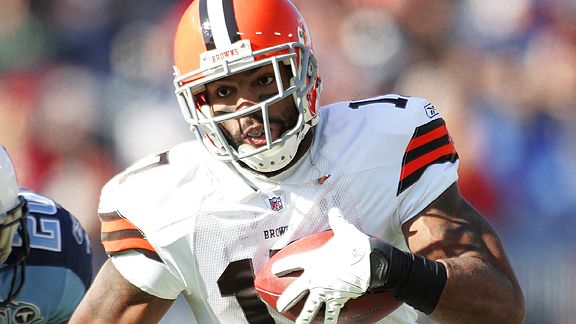 Speaking at Cleveland's minicamp on Friday, wideout Braylon Edwards said that he wants to remain a Brown despite several rumors that stated he wanted to be traded this offseason.
"I didn't get excited [about the rumors]," he said. "One, they were rumors and there was nothing to hold on to. And two, I felt like if I would have left Cleveland for any reason, I would have left with a bad taste in my mouth.

"I wanted to get back to playing good football, definitely here. It's a business and who knows what's going to happen next year. But for me, it was just about getting back to what I know I can do and being the player the Browns drafted in '05 and that the fans saw in '07."

He said the fact that Browns General Manager George Kokinis engaged in trade talks with the Giants involving him didn't sour him.

"Obviously they didn't get what they wanted, which means they felt highly of me to ask for a lot and it didn't go down that way and I'm still here," he said. "I'm happy to be here. There's a lot of players here that I still know, some new players. I remember [rookie receiver] Brian Robiskie at 17, having him out here when he was a ballboy and now he's one of my teammates. I think it's going to be a fun season. I'm excited to play with these guys and play in this new system and see what happens."

"Right now I just want to play," he said. "I'm not trying to get into contracts or things like that. I believe that focusing on football is what we all need as a Browns organization and we'll get back to the level we've been."
It's nice to see that Edwards finally wised up and won't be a distraction. The bottom line is that he still has one more year left on his contract and outside of his outstanding 2007 season, he hasn't been productive so far during his career. He doesn't do himself any good by skipping minicamps or showing up and bitching about his contract. If he doesn't get traded, he needs to prove to either the Browns or other teams that he's worth ponying up for at the end of the 2009 season.
Everything he does and says from here on out plays into how big his next contract is.