Palmer blasts Ochocinco…kind of.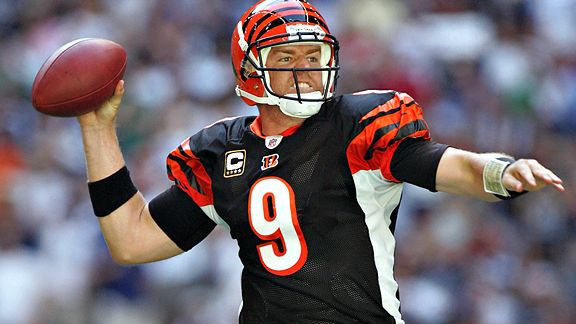 In a recent interview for NFL Sirius Radio, Bengals quarterback Carson Palmer took a few diplomatic potshots at wideout Chad Ochocinco, who has been a no-show so far in minicamps.
"It's definitely a new look for the Bengals receiver corps but I couldn't be happier with the guys we've got," Palmer said. "T.J.'s (Houshmandzadeh) gone and Chad's pretty much gone, he hasn't been here, so we've got guys that want those two spots, guys that compete day in and day out, when we're out there on the field, running, conditioning and in the weight room lifting. They're guys that want to take over for those two spots. They look every bit capable of doing what we're going to ask them to do."

When asked what his expectations about Ochocinco this season were, Palmer said: "Well, I really don't know. I haven't talked to him. I haven't talked to anybody that has talked to him. He wasn't here last year so I'm expecting him not to be here at all this year. Last year I think he was here for the mandatory camp but didn't participate in it. So I'm planning on him not being here just because he hasn't been here yet so we'll prepare, like I said.

"We've got Chris Henry … He's a guy that's had a great offseason, really turned his life around. I'm excited to watch him play. He's a guy that seems like he catches a touchdown every other ball that's thrown to him, he's that explosive. He's kind of taken over for Chad's position and he's a guy that, like I said earlier, does not want to give up that spot right now."
While I would hardly say that Palmer openly "dissed" Ochocinco, he definitely put it out there that he's not pleased with Chad's absence. Sure, Palmer could have downplayed the situation and avoid the topic, but I think he handled it right. Ochocinco is hurting the team by not being there and Palmer would rather focus on the guys who are busting their ass right now getting ready for the season. For a team leader, I like what Palmer said and maybe this will light a fire under Ochocinco, although I highly doubt it.
People like to downplay Ochocinco's actions and write it off as him just having fun. But I don't care how you slice it – he's a distraction. And Palmer has it right in wanting to concentrate on the guys who are in camp, as opposed to the one player that isn't.