Padres' Peavy could be traded to White Sox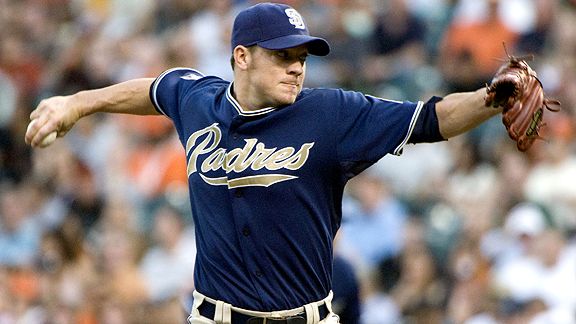 According to a report by the San Diego Union Tribune, a trade between the Padres and White Sox involving ace Jake Peavy could be imminent. The roadblocks appear to be whether or not Peavy would waive his no-trade clause and whether or not he wants to play for manager Ozzie Guillen, which apparently he has reservations about.
The question becomes: whom would the Sox have to give up in order to acquire Peavy? The Padres need middle infielders, so Chris Getz and Brent Lillibridge could be involved in the talks, but hopefully for White Sox fans, top shortstop prospect Gordon Beckham isn't.
If San Diego has its sights set on pitching (which is certainly a possibility given the division and park it plays in), Chicago might be willing to part with Aaron Poreda and Clayton Richard, although more mid-to-low-level prospects would likely have to be included as well.
If they were able to swing a deal, the Chi-Sox rotation would look incredibly strong with Peavy, Mark Buerhle, Gavin Floyd and John Danks leading the way. And considering they're only 5.5 games back in the AL Central and we haven't even reached the All-Star Break yet, a trade like this could sling them right back into contention.
Another thing to keep an eye on is whether or not this wakes up the other team in Chicago. The Cubs are in win-now mode, but thanks to injuries and inconsistent play, they find themselves currently three games behind the Brewers in the NL Central. Ace Carlos Zambrano is currently on the DL and how long before Rich Harden pays his old friend a visit, too? If Peavy doesn't waive his no-trade clause to join the White Sox, maybe the Cubs will re-enter trade talks with the Padres.
Update: The two teams have agreed on a deal, but Peavy has to sign off on it because of his no-trade clause.
Posted in: MLB, Rumors & Gossip
Tags: Aaron Poreda, Brent Lillibridge, Carlos Zambrano, Chicago Cubs, Chicago White Sox, Chris Getz, Clayton Richard, Jake Peavy, Jake Peavy Cubs, Jake Peavy rumors, Jake Peavy trade, Jake Peavy White Sox trade, MLB trade rumors, Rich Harden, San Diego Padres