NFL Network furious with Gruden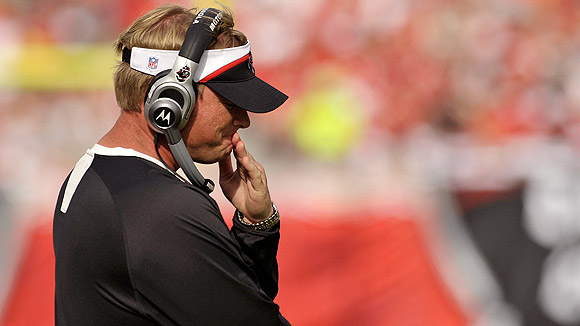 According to Peter King of SI.com, the NFL Network is furious with Jon Gruden, who nixed a deal with them to replace Tony Kornheiser and join the cast of Monday Night Football.
Do not invite Gruden and NFL Network czar Steve Bornstein to the same event anytime soon, or ever. Bornstein wants to wring Gruden's neck. The NFL Network is furious with Gruden for jilting the network after he'd verbally agreed to a deal to work there. The former Bucs coach had been very good on the NFL Network, colorful and opinionated, at the NFL scouting combine and the NFL draft, and the network had finalized everything but the signature on the paper for Gruden to begin working there immediately. In fact, he was slated to be at NFL Films this week to begin his job full time. But ESPN swooped in, offered Gruden the Monday night seat vacated by Tony Kornheiser (how convenient), and Gruden took it.

The NFL Network planned to put Gruden on the air all season, then move him to the Thursday night football booth alongside Bob Papa, replacing Cris Collinsworth. Now it's back to ground zero in its search for a voice to pair with Papa.

One of the reasons the NFL Network is so steamed, I'm told, is that no one from the Gruden camp called Bornstein to tell him. In many cases like this, the league might work with its TV partners to tell them, "Hey, hands off," or "Play fair here," but that didn't happen here. ESPN got to Gruden too fast.

Now there are two people who should have been NFL Network stars this fall — Gruden and ace reporter Adam Schefter — who will instead work for ESPN. And the NFL Network is not pleased about the defection of either one.
The NFL Network has a tough roe to hoe when a bigger network such as ESPN comes a calling for some of their "players", considering their reach and audience isn't that big. If you got the opportunity to call a Monday Night Football game when you knew millions of people will be watching on a weekly basis, why would you stay at NFL Network calling late season Thursday night games for an audience of about 12 people?
Still, if this report is true what a crappy move by Gruden. You have to at least have the decency to tell your employer that you're moving on if you already had an agreement with them to stick around for a while. Either way, he'll likely be back on the sidelines in 2010, so ESPN will be looking for his replacement soon enough.