ESPN disputes Favre surgery story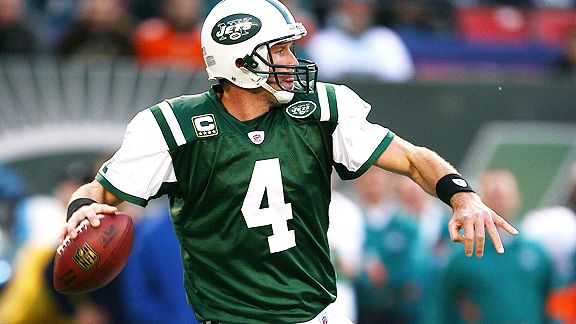 On Monday, the St. Paul Pioneer Press reported that Brett Favre would have surgery at the end of the week to repair a tear in his right biceps so that he could eventually sign with the Vikings. But ESPN.com's Ed Werder is disputing that claim and says that Favre doesn't want to have surgery.
Favre, however, remains focused on non-surgical options, including cortisone injections and natural movements like light throwing and bicep curls that might cause the tendon to release naturally, the source told ESPN. If the tendon releases and the pain subsides, Favre is virtually certain to play again. If he has surgery and his arm strength diminishes or the pain remains, he will remain retired, the source said.

At 39, Favre believes the less he has to do to correct the problem the better as he believes he still possesses the arm strength he had 10 years ago. The difference now is the injury is causing pain. According to the source, Favre will return to the NFL to play for the Minnesota Vikings if the tendon ruptures and it makes him pain-free. If he submits to arthroscopic surgery and it fails to resolve the problem, then Favre intends to remain retired.

Either way, Favre is losing patience, causing the source to say the shoulder problem must be overcome soon or Favre is likely to abandon his effort to play a 19th NFL season.
It's past the point where we should question anything the St. Paul Pioneer Press reports about Favre. It's almost becoming second hat that when they report something, it's going to be disputed the next day by a major media outlet, although ESPN did take the bait yesterday in regards to this story, because they linked to the St. Paul Pioneer Press' Favre-surgery report themselves.
It's getting harder and harder to decipher whether or not Favre will play next year. One moment it looks like he's doing everything he can to return, and the next it looks like he'll stay retired. The key hurdle seems to be his health and whether or not he can play without having surgery. In the end, maybe he'll throw his hands up to the situation and stay retired after all.