Braylon Edwards reports to Browns' minicamp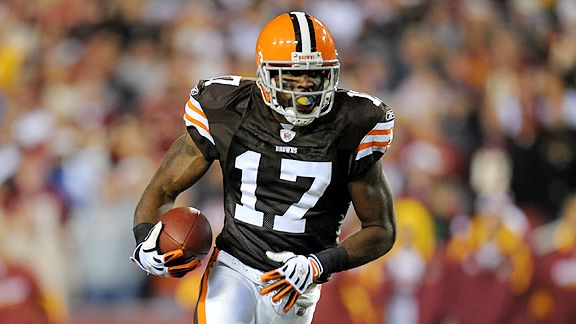 After sitting out most of April and early-May workouts, Browns' wideout Braylon Edwards reported to minicamp on Tuesday.
Browns receiver Braylon Edwards, who's been the subject of trade talks this offseason, participated in the Browns voluntary minicamp Tuesday, a source close to Edwards said.

Edwards, who participated in only the first few days of the Browns offseason program, has not been heard from all offseason despite the fact that Browns general manager George Kokinis admitted at the NFL Owners' meetings in March that he had talked to the Giants about trading Edwards there.

Edwards, who's coming off a down year, is in the last year of his contract. There have also been rumors that the Jets might be interested in trading for him. The voluntary camp runs Tuesday through Thursday, with only Thursday being open to the media.
Whether Edwards wants a new contract or wants to be traded (or both), it doesn't benefit him to sit at home and pout. He's much better off showing up to camp and working his ass off so either the Browns invest more money in him or trade him to a team that will. Outside of one season, it's not like Edwards has set the NFL world ablaze with his play. So it behooves him to show that he's committed to becoming a better player or else his next contract is going to be below market value for a supposed No. 1 receiver.