Gruden to replace Kornheiser in MNF booth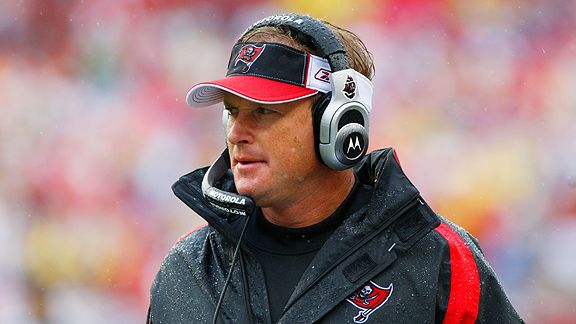 For Monday Night Football telecasts, it's out with TV personality Tony Kornheiser and in with former head coach Jon Gruden.
Former Super Bowl-Winning Coach to Team with Tirico and Jaworski in MNF Booth
Gruden replaces Tony Kornheiser, who has decided to step down after three years in the Monday Night Football booth.

Kornheiser added: "I am totally grateful for the MNF opportunity that I truly enjoyed the last three seasons. I feel we got better each year. My fear of planes is legendary and sadly true. When I looked at the upcoming schedule it was the perfect storm that would've frequently moved me from the bus to the air. I kept looking at the schedule the past month and wanted to find a way to quietly extricate myself. If I could handpick a replacement of a football guy, I would cast a net and drag in Jon Gruden. He is the two things you most want — smart and funny — and has the two things I don't — good hair and a tan. I love PTI and am looking forward to continuing to yammer and yodel with Wilbon until the end of time."

Gruden was an analyst for the NFL Network during the draft and he did a nice job. He didn't blow me away with his commentary, but he was solid nonetheless.
The brains behind MNF need to get it together. I realize they're trying to appeal to a broader audience and that's why they've tried comedians and other personalities like Kornheiser and Dennis Miller, but just freaking stick a football guy between Tirico and Jaws and call it a day.
Football fans want to hear the broadcasters discuss the game – not some irrelevant stat or story that is force-fed to Kornheiser by the producers. It seemed that most of Kornheiser's jokes were written for him and they wound up being a distraction at times. He played his role perfectly (i.e. someone that tried to bring up different topics during the game), but again, I'd rather have a football guy like Gruden in the booth who obviously has knowledge of the game.
The question is, how long before Gruden returns to the sidelines? I'm assuming he'll only be unemployed for a year and that means MNF will have to find another replacement again.