Kobe Bryant and Lakers finish off Rockets in Game 7, look to Denver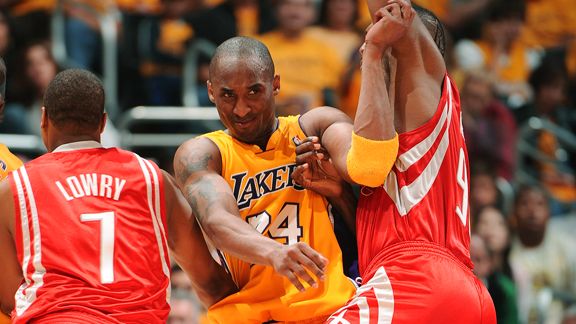 Well, the Lakers finally made it out of the Western Conference semi-finals. Certainly took them long enough. Arash Markazi from Inside the NBA at Sports Illustrated had an interesting quote after the game:
When Kobe Bryant was asked what he learned about the Lakers after a grueling seven-game Western Conference semifinal series against the Rockets that culminated with an 89-70 win Sunday, he didn't hesitate before answering.

"That we're bipolar," Bryant said with a straight face.
Ya think? While I still whole-heartedly feel the Lakers are the best team in the West, it makes the upcoming series against the Nuggets seem like less of a sure-fire thing. The Lakers, and Kobe Bryant especially, really need to get their act together, take the proper meds or whatever, and regain some consistency.
Their general level of play is high enough that most teams can't touch them even on an off night, but the Denver Nuggets have a lot of fire in their eyes. Their games haven't been as well publicized as any of the other potential conference finalists. But as any Detroit fan can tell you, with Chauncey Billups leading them anything could happen when he meets the Lakers.
If Los Angeles can come into their next game on Tuesday with the same level of desire they showed against Houston today, they'll get past the Nuggets handily. But with even the star-player admitting the team is mentally out of control, it's anybody's guess who will show up. If only this kind of wild variety made for more interesting basketball! The Houston/LA series was defined by a succession of surprise blowouts, something pretty boring for a neutral and bad for TV. I'm hoping the Nuggets can keep the Lakers on their toes.