Rosenhaus: Boldin isn't seeking $10 million a year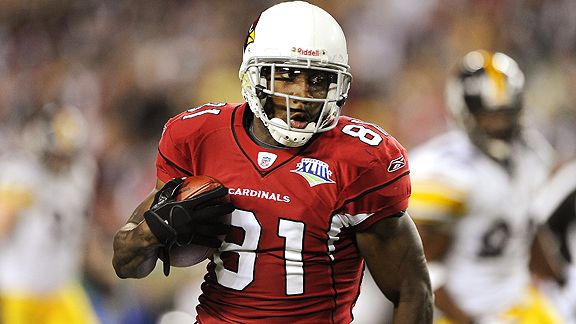 According to the Arizona Republic, Anquan Boldin's agent Drew Rosenhaus has submitted a contract offer to the Cardinals, but that doesn't necessarily mean that the team is willing to negotiate at this time.
Rosenhaus said contrary to speculation, Boldin is not seeking a deal worth $10 million a year, which is what teammate Larry Fitzgerald is receiving. The recent offer is for less, Rosenhaus said.

An NFL source familiar with the proposal said the deal averaged just under $10 million per season.

Rosenhaus declined to say when he made the proposal to the Cardinals. He has discussed the proposal with Graves, he said, but the Cardinals have not responded with a counteroffer.

It could be the range of $8 million to $9 million a year on average. T.J. Houshmandzadeh signed a five-year, $40 million deal with Seattle this spring, with $15 million guaranteed.

Dallas traded for Roy Williams last year, then signed him to a five-year, $45 million deal with $20 million guaranteed.
If we're talking solely about contract numbers, Boldin is definitely worth the $9 mil a year that Housh is getting. But it's obviously not that simple for the Cards to just re-negotiate a deal like that for Boldin considering they're already paying Fitzgerald $10 million a year. Plus, and this is a biggie, Boldin is still under contract for two more years. The Cardinals aren't obligated to do anything with his contract if they don't want to.
Nevertheless, at least the lines of communication are open between Rosenhaus and the Cardinals. We'll see what Arizona's countermove is.