Report: Favre consulted well-known doctor about biceps injury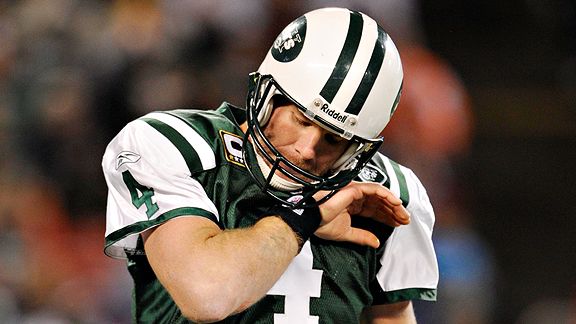 According to a report by ESPN.com, Brett Favre consulted Dr. James Andrews, a highly respected doctor among athletes, on what kind of exercises would help strengthen his biceps injury so he wouldn't have to go under the knife.
The development further indicates Favre's willingness to consider coming out of retirement to sign with the Minnesota Vikings, particularly if there is a non-surgical solution to his damaged shoulder.

The source said Andrews and Favre experimented with one of several exercises that could accelerate the process of the tendon releasing on its own. During an interview with ESPN in February, Favre mentioned that he had a partially torn biceps tendon in his left shoulder during his Green Bay Packers career and that the pain subsided once it completely tore naturally.

If that fails to produce the desired results, it remains uncertain whether Favre would endure even arthroscopic surgery to prolong his career to a 19th season. A source close to Favre described that as an option but a projected 3-6 week rehabilitation is unappealing to the quarterback, who will apparently require no therapy if the tendon can be forced to tear through the exercise regimen.
This report doesn't necessarily mean that Favre intends on playing again next season, but it sure as hell looks like he's trying to do everything in his power in order to come back. (And I do mean everything seeing as how he has been working out with a high school team to stay in shape.)
Posted in: NFL
Tags: Brett Favre, Brett Favre comeback, Brett Favre Dr. James Andrews, Brett Favre retirement, Brett Favre rumors, Brett Favre staying retired, Brett Favre to meet with Vikings, Brett Favre turns down Vikings, Brett Favre Vikings, Brett Favre Vikings rumors, Brett Favre X-rays, Vikings Brett Favre X-Rays