Andy Reid's son sent to prison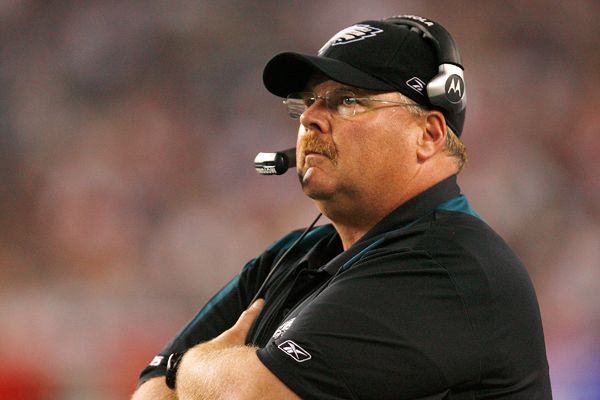 Garrett Reid, the son of Eagles' head coach Andy Reid, has been sent to prison again after flunking a drug test.
Reid, eldest son of Eagles coach Andy Reid, was sent to Graterford Prison yesterday after he failed a drug test at a Hunting Park halfway house, said Montgomery County District Attorney Risa Vetri Ferman.

The 26-year-old tested positive for narcotics when he returned to the Luzerne Treatment Center, on Luzerne Street near G, where he was serving part of a three-year probation sentence.

"He had been on a pass away from the facility for a brief period of time," Ferman said. Reports that Reid had been involved in a physical altercation at the center were unconfirmed, she added.
Reid's troubles began on Jan. 30, 2007, when his SUV rammed another car in Montgomery County, injuring the other driver. Police said Reid was high on heroin at the time.

While serving time for the car crash, Reid smuggled 89 pills into prison in his rectum. He was sentenced last summer to a drug-treatment program for nonviolent offenders. Reid served five months in state prison and was then moved to the halfway house, where he's subject to frequent drug tests, Ferman said.
There's no better place to hide drugs than in your rectum. Sometimes I put my wallet up there whenever I'm forced to go down a dark alley in the middle of the night. Trust me, crooks never think to search your rectum when they're mugging you.
Follow the Scores Report editors on Twitter @TheScoresReport. You can also follow TSR editor Gerardo Orlando @clevelandteams and @bullzeyedotcom, and you can follow TSR editor Anthony Stalter @AnthonyStalter.
Picture of the Day
Enjoy a daily photo from Bullz-Eye.com of one of their beautiful models.
Improve your game today!
You've got to brush up on your game to get the girl! Find your hookups with this online dating guide.
Sexy Girls and Cars
Check out this slideshow of hot babes and cool cars.