Why can't the Magic finish games?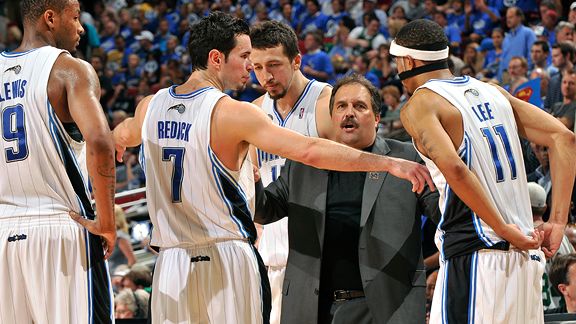 In Game 4, Orlando was down six going into the fourth quarter and rallied, only to lose on Glen Davis' game-winning jumper. In Game 5, they were up by 14 with 8:48 to play and were outscored 29-11 over the next nine minutes en route to a four-point loss.
Why can't Orlando finish?
After Game 4, John Carroll wrote that the cause is four-fold. (ESPN Insider subscription required.)
1. The Magic don't fully commit at the defensive end.
2. They refuse to pound the ball inside.
3. They fall in love with the three-point shot.
4. They don't trust their coach the way the Celtics do.
No arguments with #1. In Game 4, the Magic allowed the Celtics to shoot almost 53% from the field. In the fourth quarter of Game 5, the C's shot 11 of 19 (58%) during their tremendous comeback. That is not championship-caliber defense.
Likewise, #3 makes sense as well. For a team that takes a ton of threes — almost 31% of the Magic's field goal attempts come from long range in the last two games — they have been terribly inaccurate (11 of 51, or 22%).
I can't get in the minds of the Orlando players, so I don't know how much trust they have in Stan Van Gundy.
But I can speak to #2…
The Magic just don't pound the ball inside like they should. Orlando is built like the Hakeem Olajuwon-era Houston Rockets. Find a great big man (Dwight Howard) and surround him with shooters (Hedo Turkoglu, Rashard Lewis, Jameer Nelson, etc.). When the Rockets won back-to-back championships in 1994 and 1995, their go-to play was to dump it inside to Olajuwon. If the defense tried to play him one-on-one, he'd kill them with the baseline fadeaway or the up-and-under. More often, teams would send a double-team and Olajuwon would kick the ball out and the perimeter players (Robert Horry, Sam Cassell, Kenny Smith or Clyde Drexler) would swing the ball around for an open shot.
In the fourth quarter of Game 5, the Magic never really threw it in to Howard in the post. They kept running a pick and roll at the top of the key, over and over. And they scored a total of 11 points over the last nine minutes, so that should tell you how that plan worked out. Granted, Howard is not nearly the post player that "The Dream" was in his day, but you have to get your best player the ball when it matters most.
So if Dwight Howard is pretty much a non-factor late in the game, how are Turkoglu and Lewis playing?
Here are their lines from the fourth quarters of Game 4 and Game 5:
Game 4
Lewis: 1-3 FG, 4 points, TO
Turkoglu: 0-5 FG (0-3 3PT)
Game 5
Lewis: 0-3 FG, 2 points, TO
Turkoglu: 2-4 FG, 5 points, 4 assists
So, Orlando's top two perimeter players have combined to shoot 3 of 15 for 11 points and two turnovers in the fourth quarter of the last two games. When you think about how much money they're making — specifically Lewis — this kind of production does not warrant that kind of scratch. Moreover, both players have settled for jumpers and haven't been getting to the rim, which is one of Orlando's biggest flaws; they just don't have a player that can get to the basket on a consistent basis, and that's crucial for late game success.
It's crazy to think how close the Magic were to being up 3-1. Now they are down 3-2 and face two must-win games to win the series. Had they made more of an effort to feed the post or had gotten better play from Lewis and/or Turkoglu, they might be getting ready for the Cavs right now.