Vikings' president says team is still interested in Favre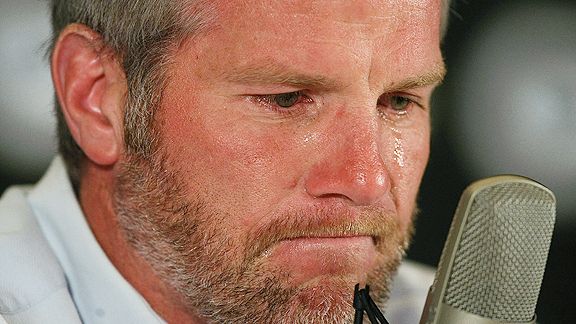 Team president Mark Wilf reiterated that Minnesota is still interested in signing Brett Favre, although he won't confirm if any meeting has been established between the Vikings and the grizzled vet.
"Certainly a player of Brett Favre's (credentials), a Hall of Fame quarterback, with the competitive he has, that is a player that we would have interest as we would have other players," Wilf said. "But, again, its process of evaluation and a variety of factors that go into it and that has to play itself out and I defer to our coach and our personnel people to really evaluate those issues."

Wilf said he and the ownership group entrusted such decisions to head coach Brad Childress and player personnel vice president Rick Spielman and their respective staffs.
Asked directly if anyone from the organization has met with Favre in the last week, Wilf said, "I'm not aware of any meeting.

"But, the fact is, like I say, any football personnel matters, medical matters ,those types of issues, are really issues that we don't typically discuss publicly," Wilf said. ". And I hope the fans and the media can appreciate that. Because that's the right way, we feel, to get the best product on the field and get our ultimate goal of a Super Bowl championship."

Since ESPN reported last Tuesday that Childress was planning to meet with Favre, the Vikings have been mum on the matter, which has become the central NFL story in a usually quiet period of the offseason.
The Vikings don't need to rush into any decision regarding Favre because they seem to be the only team competing for his services. By all accounts, Favre only wants to play for the Vikings, which means the team can take its time analyzing his health and whether or not pursuing him is the right move for the 2009 season. (Any consideration past 2009 wouldn't be worth discussing since Favre changes his mind more than a 16-year old girl in possession of her father's credit card while at the mall.)
Posted in: NFL
Tags: Brett Favre, Brett Favre comeback, Brett Favre retirement, Brett Favre rumors, Brett Favre staying retired, Brett Favre to meet with Vikings, Brett Favre turns down Vikings, Brett Favre Vikings, Brett Favre Vikings rumors, Brett Favre X-rays, Vikings Brett Favre X-Rays