Report: Vikings waiting on X-rays to decide whether or not to sign Favre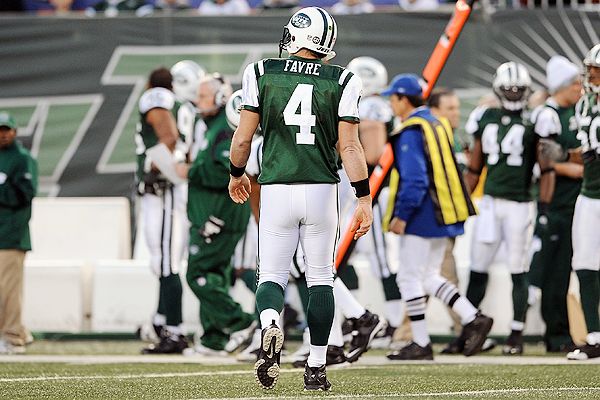 What a surprise – it turns out that Brett Favre could still be Minnesota bound.
According to a report by ESPN.com, the Vikings are apparently evaluating X-rays that Favre had taken on his injured throwing arm to determine whether or not to pursue signing him..
A source close to the situation told ESPN's Jeremy Schaap on Friday that X-rays of Favre's right shoulder — he has pain resulting from a torn biceps tendon — have been sent to the Vikings and that the X-rays are in the process of being evaluated. If it is determined by Favre's and the Vikings' medical people that he needs anything less than "major" surgery on his shoulder, Favre will un-retire to play for the Vikings, the source said.

If "major" surgery is necessary, Favre will remain retired, the source said.

The news comes on the day after Yahoo! Sports reported that the 39-year-old Favre told Vikings coach Brad Childress he would remain retired.

Bus Cook, Favre's agent, told ESPN's Rachel Nichols on Friday that he did not know of any X-rays being sent to Minnesota.
Why would Yahoo! Sports report that Favre told the Vikings he's planning on staying retired, only to have ESPN come out the next day and say that the Vikings are basing their decision on whether or not to sign him on his X-rays? Something doesn't add up here.
Either way, as I wrote yesterday when the Yahoo! Sports report broke, until I don't see Favre's frumpy ass in purple and white by kickoff of Week 1, I'm going to assume that he'll be a Viking in 2009.
Posted in: NFL
Tags: Brett Favre, Brett Favre comeback, Brett Favre retirement, Brett Favre rumors, Brett Favre staying retired, Brett Favre to meet with Vikings, Brett Favre turns down Vikings, Brett Favre Vikings, Brett Favre Vikings rumors, Brett Favre X-rays, Vikings Brett Favre X-Rays