Manny: Drugs came from physician for personal health issue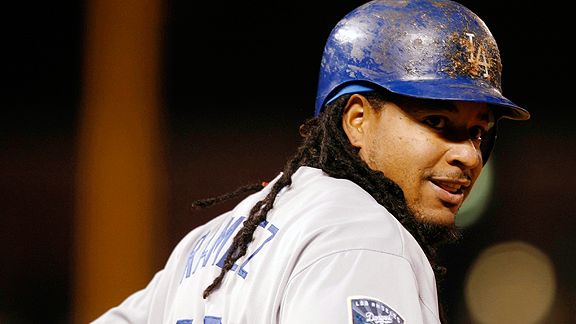 After being suspended by Major League Baseball for 50 games for testing positive for performance-enhancing drugs, Manny Ramirez released an official statement saying the drugs were from a physician he saw in Florida for a personal health issue. Ramirez also won't appeal the suspension.
"Recently I saw a physician for a personal health issue. He gave me a medication, not a steroid, which he thought was OK to give me," Ramirez said. "Unfortunately, the medication was banned under our drug policy. Under the policy that mistake is now my responsibility. I have been advised not to say anything more for now.

"I do want to say one other thing; I've taken and passed about 15 drug tests over the past five seasons. I want to apologize to [Dodgers owner Frank] McCourt, Mrs. McCourt, [manager Joe] Torre, my teammates, the Dodger organization, and to the Dodger fans. LA is a special place to me and I know everybody is disappointed. So am I. I'm sorry about this whole situation."

After consultation with the Players' Association and his personal representatives, Ramirez waived his right to challenge the suspension. He will lose nearly $8 million of his $25 million salary.
I don't know if it's fair to make assumptions at this point, but for Major League Baseball to hand out a 50 game suspension, you know Manny had to be on something significant. Or else why wouldn't he or the Dodgers try to appeal the suspension? The Dodgers stand to lose a ton of money because of this ruling, especially when you consider how their entire 2009 marketing campaign centers around Ramirez. So they must know an appeal would be a lost cause.
It'll be interesting to see how the Dodgers react to this on the field. They currently have the best record in baseball and play in a weak NL West, but everything revolves around Ramirez in that lineup. Players like Orlando Hudson and Andre Ethier have greatly benefited from hitting around Manny and L.A.'s offense takes a huge hit with him out of the lineup.
If the Giants, Padres, Diamondbacks and Rockies were looking for a jolt, they just got one.
Related Articles:
– Source: Ramirez tested positive for sexual enhancer
– Manny Ramirez to be suspended 50 games for positive PED test
Posted in: MLB
Tags: Man-Ram sexual enhancer, Manny Ramirez, Manny Ramirez 50 game suspension, Manny Ramirez failed drug test, Manny Ramirez HCG, Manny Ramirez positive test, Manny Ramirez sexual enhancer, Manny Ramirez suspended, Manny Ramirez suspended 50 games, Manny Ramirez suspension, Manny Ramirez tests positive, Manny Ramirez tests positive for performance-enhancing, Manny Ramirez used sexual enhancer, MLB drug policy, MLB suspends Manny Ramirez