Beasley and Chalmers fined repeatedly throughout season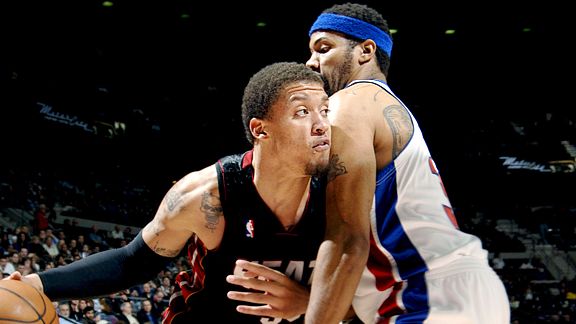 Rookies Michael Beasley and Mario Chalmers were fined before the season by the NBA and during the season by the Heat for breaking team rules.
The number of fines not only caught the attention of Heat President Pat Riley, but had team staffers addressing the rookies during the season about the penalties that were subtracted from their paychecks.

Spoelstra said none of the fines was for missing practice or showing up late for such sessions, declining to go into detail about the volume or specifics.

"In terms of your actual practice time, [Beasley] wouldn't miss practice, he was never late for practice, he wouldn't miss a turn in practice," the first-year coach said. "And once you get out there and get him on the practice floor, he'll work for you, he'll drill for you, he's coachable.

"It's all the other things behind the scenes. That's part of maturing."

Beasley acknowledged work remains.

"When it comes to playing and it comes to game time and doing my job, I'm always on time, I'm professional," he said. "There's some stuff I've still got to work on."
I don't know whether or not it is deserved, but Beasley already has a little bit of a bad rep when it comes to his attitude. Bill Simmons had some harsh words for Beasley, though I doubt he attended any Heat practices or has ever met the rookie.
[Discussing Jason Thompson] You know, if Michael Beasley wasn't such a colossal disappointment and semi-fraud, the 2008 draft could have ranked among the best ever.

[Discussing Jeff Green] Great teammate, tough as nails, gives a crap, does whatever you need. He's the anti-Beasley.
These words prompted me to ask, "What kind of rookie season is Michael Beasley having?" back in February. Statistically, his rookie season was pretty solid, so whatever reputation he's building has to do with the qualitative aspects of the game. It's going to be interesting to see how he progresses in his second season.