Are the Browns still considering trading Braylon Edwards?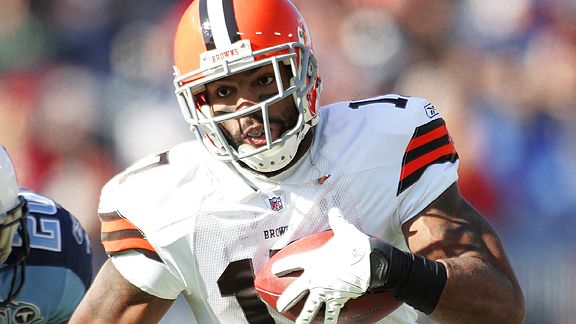 Tony Grossi of the Cleveland Plain Dealer wonders aloud if the Browns are still intent on trading Braylon Edwards after recently signing free agent Mike Furrey, who now joins a crowded receiver corps.
• Until proven otherwise, we've got to assume a trade of Braylon Edwards is still being explored. Surely he's not scoring points with Mangini by missing the "voluntary" offseason conditioning workouts. Perhaps the Browns are bracing for the possibility of Edwards also skipping the two "voluntary" minicamps scheduled later this month. Securing a No. 1 pick in 2010 for Edwards now would give the Browns some comfort moving forward.

• If Edwards does not return, the Browns have a lack of speed at the wideout position. Robiskie and Massaquoi — again, they're rookies — run decent for their size, but they won't be getting behind many NFL corners. Furrey, 32, is a possession receiver. David Patten will be 35 when the season starts. As for the other receivers returning from last year's roster — Paul Hubbard, Syndric Steptoe, Lance Leggett — I haven't heard Mangini or Kokinis mention any of their names since they've been on the job.

• Perhaps the Browns are merely adding competition to the receiver position. But it's odd that they aren't doing the same at running back.
I didn't excerpt this portion, but in his article Grossi makes a good point that it's unrealistic to assume that both Brian Robiskie and Mohamed Massaquoi (two receivers the Browns drafted in the second round of last month's draft) will develop into starters as rookies. However, while Massaquoi was largely considering a raw prospect by some scouts, Robiskie was the most polished receivers to enter the draft so it wouldn't be far-fetched if he turned some heads this summer and became a starter. (His father is long-time NFL assistant and current Falcons' receiver coach Terry Robiskie, so you know Brian has had excellent training throughout his young career.)
In regards to trading Edwards, the Browns are setting themselves up for either outcome. The additions they have made to their receiving corps this offseason haven't been spectacular, but they could at least get them through a season if they do wind up trading Edwards.
Edwards becomes a free agent after the 2009 season and it appears that he doesn't want to re-sign with Cleveland, so the Browns would obviously love to get some kind of compensation for him if he does plan on bolting. But if they wind up hanging onto him, he is still their most talented receiver and would be their top playmaker in the passing game next season. I don't know if I would say it's a win-win for the Browns, but at least they seem to have a plan.