What's wrong with Josh Beckett?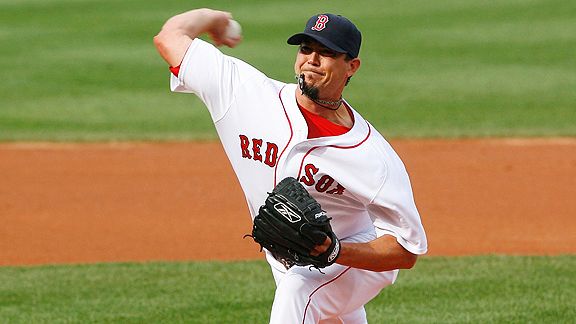 I had the opportunity to watch the Red Sox-Rays game last night in what was supposed to be a great pitcher's duel between Josh Beckett and Matt Garza. What it turned out to be was a Boston beat down, as Tampa Bay routed the BoSox 13-0 thanks to Garza's near perfect game. (Jacoby Ellsbury's infield single off Garza in the seventh ended his bid for a perfect game.)
Outside of Garza's flirtation with perfection, one of the storylines was Beckett, who allowed seven runs on 10 hits in just 4.2 innings of work. He also allowed eight runs in his previous start, which means he has now surrendered seven or more runs in consecutive starts for just the second time in his career.
What was strange about his performance was that it wasn't just another bad outing. Beckett was actually cruising until he got into trouble in the third, retiring six of the first seven batters he faced while also striking out four. He was throwing the ball hard, his curve was sharp and he had great command. It really looked like he was going to have one of those outings where you talk about him afterwards as being one of the best aces in baseball.
But then the wheels completely came off in the third. He loaded the bases on a couple of infield singles and a walk to Carl Crawford, then Evan Longoria doubled to right to drive in three runs. Beckett managed to get out of the inning, but not before giving up another run to give the Rays a 4-0 lead. He went on to give up three more runs and was eventually relieved by Hunter Jones in the fifth.
Granted, Beckett still could be recovering from the torn oblique muscle he suffered at the end of the 2008 season, but considering he had a good spring, that seems unlikely. I'm not a scout, but his mechanics looked fine last night. It appears that his struggles over the past two starts have been more mental than anything. (Did I mention I wasn't a psychologist either?)
A guy doesn't cruise for two innings demonstrating lights-out stuff only to go Eddie Guardado in the third without having something going on upstairs. Baseball is such a mental game and maybe Beckett's confidence is down. Either way, something doesn't seem right and hopefully for the Sox, he can straighten things out because he has looked incredibly hittable so far this season.