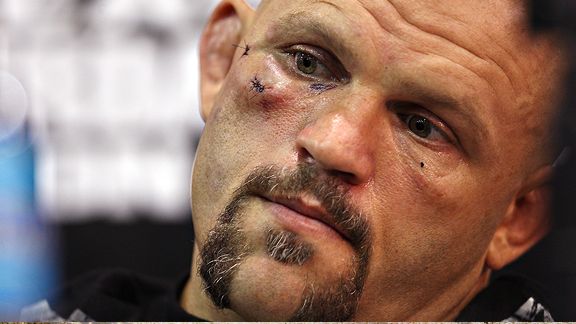 Here's a weekly rundown of MMA content from Ben Goldstein of CagePotato.com:
– Congenital amputee Kyle Maynard's MMA debut went about as well as we thought it would.
– Clearly bored with the garbage-ass challengers he's been getting in the UFC's middleweight division, 185-pound king Anderson Silva will go up to light-heavyweight again to face Forrest Griffin at UFC 101 in August. Meanwhile, Nate Marquardt and Demian Maia will be facing off to determine who really deserves the next middleweight title shot.
– Gina Carano looked hot at Kevin Randleman's wedding.
– Despite some intense infighting, Team U.S. was able to put its first victory on the board on the last episode of The Ultimate Fighter, while coach Michael Bisping vanished into thin air.
– Japanese promotion DREAM is putting together the greatest MMA freak show in history with their "World Superman Championship," which will feature steroid-snitch Jose Canseco, pituitary case Hong Man Choi, Bob Sapp, and five more warriors, hopefully fighting to the death.
– Speaking of freak shows, Fedor Emelianenko used his 70-pound weight advantage to toss around Shinya Aoki in a grappling exhibition at the last M-1 Challenge event.
– Less than two months after Nick Diaz and Scott Smith scored victories at "Strikeforce: Shamrock vs. Diaz," the two will be fighting each other at "Strikeforce: Lawler vs. Shields."
– Sign of the apocalypse #783: Kung Fu Football.
– Kim Couture's wife pulled out of her upcoming fight against Miesha Tate, and Tate responded by telling everyone that Kim and The Natural are getting a divorce. Real classy.
– By forcibly retiring Chuck Liddell, is Dana White looking out for his friend's health or his company's wallet? Little from column A, little from column B?
Posted in: Mixed Martial Arts
Tags: Anderson Silva, Bob Sapp, Chuck Liddell, Chuck Liddell retiring, Dana White, Demian Maia, Fedor Emelianenko, Forrest Griffin, Gina Carano, Hong Man Choi, Jose Canseco, Kevin Randleman, Kim Couture, Klye Maynard, Kung Fu Football, Kyle Mynard MMA debut, Lawler vs. Shields, Michael Bisping, Miesha Tate, MMA freak show, MMA News, MMA rumors, Nate Marquardt, Nick Diaz, Scott Smith, Shinya Aoki, Silva vs. Griffin, The Ultimate Fighter, UFC rumors, World Superman Championship