Artest says Brandon Roy is better than Kobe and LeBron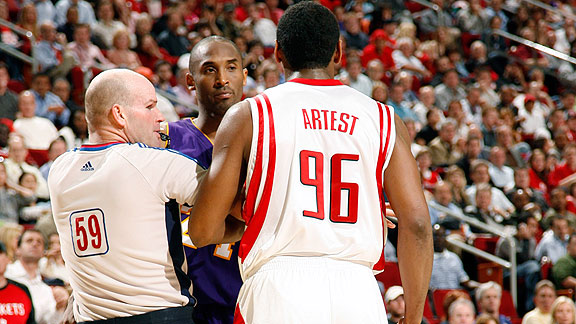 Craig Sager conducted an interesting interview with Ron Artest on Wednesday. In it, Artest says that Brandon Roy is the "best player" he's played against, including Kobe and LeBron.
Artest: "They are doing a good job, they are well coached. (Brandon) Roy is probably the best player I've played against, to me he is the best shooting guard. Not on defense now, defense is kind of suspect. He's the best player I've played against."

Sager: "He's a better player than Kobe Bryant, better than LeBron James?"

Artest: "He's the best player I've played against."

Sager: "Are you saying that just because he's your opponent in this series?"

Artest: "No, he is. He's the best player I've played against, outside from a guy from my hood in Queensbridge, a guy named Mike Chafley. He went to jail a couple of years when he was 15 or 16 years old, but he was the best player I played against and now it's Roy."
You've got to love Artest's flair. His team is primed for a matchup with the Lakers and he gives Kobe bulletin board material. (Like he needs the extra motivation.) And I love the reference to Mike Chafley in Queensbridge…did Artest play him before or after he went to jail? If it was before, then he's saying that some 14 or 15 year-old is the best player he's ever played against. If it was after Chafley got out of jail, why isn't this cat in the NBA?
Follow the Scores Report editors on Twitter @TheScoresReport. You can also follow TSR editor Gerardo Orlando @clevelandteams and @bullzeyedotcom, and you can follow TSR editor Anthony Stalter @AnthonyStalter.
Picture of the Day
Enjoy a daily photo from Bullz-Eye.com of one of their beautiful models.
Improve your game today!
You've got to brush up on your game to get the girl! Find your hookups with this online dating guide.
Sexy Girls and Cars
Check out this slideshow of hot babes and cool cars.