Looking at the NFL Draft with a fantasy eye
Fantasy football drafts won't fire up in earnest for a few more months, but now that the real draft is over, it's a good time to take a look at the rookie class and try to identify those players that have the best chance to make an impact in 2009.
At any position, a rookie's value can be estimated with the following equation:
Value = Talent + Opportunity + Readiness
Talent is probably the tougher of the three to judge, but luckily we can leverage the work of those scouts and coaches who just put a ton of time into putting together their draft boards. A first rounder is probably a little better than a second rounder, a second rounder is probably a little better than a third rounder, and so on.
Opportunity is (usually) pretty obvious. If a team has a big hole at running back and they draft one in the first round, the chances are pretty good that he'll be the team's leading rusher by the end of the season.
Readiness has more to do with position than anything else. Year in and year out, running back is by far the easiest position for a rookie to excel. The big hurdle is pass blocking, so if they can get that down, they'll see a lot of playing time. Just hand them the ball and let 'em run. Rookie wide receivers have a tougher time finding success early on, but there are usually one or two guys each year who crack the top 30. Last year, it was Eddie Royal and Desean Jackson. In 2007, it was Dwayne Bowe. In 2006, it was Marques Colston. Larry Fitzgerald, Lee Evans and Michael Clayton thrived in 2004. The list goes on.
Generally speaking, very few tight ends and quarterbacks make a substantial fantasy impact in their rookie seasons. In 2008, Matt Ryan had the best season for a rookie QB in years, and he finished #16 amongst quarterbacks, making him only a decent backup in most fantasy leagues.
So it's best to focus on the running backs and wide receivers. Here are a few guys to keep your eye on…
RUNNING BACKS
Knowshon Moreno looks to be the odds on favorite to lead all rookies in rushing, though the Denver backfield is crowded with Correll Buckhalter, LaMonth Jordan, Ryan Torain and Selvin Young fighting for carries. Still, the team burned a first round pick to get him, so they obviously plan to use him. He's a great all around back and an underrated receiver…Chris "Beanie" Wells joins Tim Hightower in the Arizona backfield. Hightower seems to be more of a short-yardage guy, but don't rule out the Cards utilizing a RBBC. Wells has had a few nagging injuries throughout his career, but he hasn't missed much time. His competitiveness has been questioned, though he's a superb natural runner…Shonn Greene isn't explosive, but he runs hard and is a patient runner. He has Thomas Jones and Leon Washington ahead of him, but those are two guys that could be overtaken if he plays extremely well in the preseason…Bernard Scott is a sleeper in Cincinnati. Cedric Benson is the starter there and Chris Perry was just cut, so it's feasible that Scott could overtake Benson if he falters, on or off the field. Scott is a good all around back from a small school (Abilene Christian) who could surprise some people…Most of the other guys drafted early on are going to situations where they'll likely be unable to overtake the starter unless there's an injury of some sort. Donald Brown (IND), LeSean McCoy (PHI) and Glen Coffee (SF) fall into this category.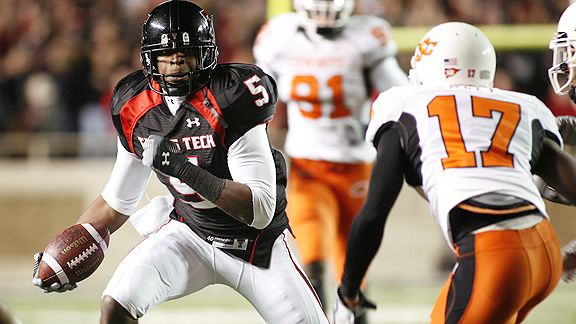 WIDE RECEIVERS
This is an interesting class of rookie wideouts. The first eleven WRs off the board went to teams in moderate to desperate need of help at the position. Michael Crabtree jumps out as a NFL-ready prospect who should have a ton of opportunity in San Francisco. His big negative is his QB situation…Percy Harvin is a DeSean Jackson-type who can make plays all over the field. If he has a good camp, he shouldn't have a problem beating out Sidney Rice and become Minny's WR2…Speaking of Jackson, the Eagles might have found his running mate in Jeremy Maclin. He has good speed and quickness, but needs to learn how to deal with the physicality of NFL corners…With the departure of Plaxico Burress, Hakeem Nicks is an interesting prospect for the Giants. Domenick Hixon and Steve Smith are penciled in as the starters, but Nicks could push either for playing time…Our NFL guru, Anthony Stalter, called Brian Robiskie "the most polished receiver in this year's draft." He's a possession receiver, so maybe a Wes Welker/Anthony Gonzalez type. He'll be more valuable in PPR leagues than standard TD-heavy leagues…Much has been made of Oakland's pick of Darrius Heyward-Bey. He's a burner, but isn't the greatest route runner and lacks focus at times. However, Al Davis will be eager to prove everyone wrong, so there's a good chance that Heyward-Bey will start, and that's something…Kenny Britt joins Justin Gage and Nate Washington in Tennessee. Britt is the kind of guy that doesn't do any one thing great, but is pretty solid across the board. With the guys ahead of him, there's some opportunity for playing time…Juaquin Iglesias will have a chance to start if he can beat out Earl Bennett in Chicago (though Bennett played with Jay Cutler at Vandy, so he'll probably get every chance to start)…Keep an eye on Jarrett Dillard in Jacksonville. The Jags just signed Torry Holt, but Dillard put up huge numbers at Rice.
TIGHT ENDS
Top TE pick Brandon Pettigrew looks like the best bet to make a rare impact as a rookie TE. He's the complete package and the Lions will probably be trailing for most of '09, so expect a lot of opportunity…Chase Coffman is a pass-catching TE out of MIZZOU that joins a Bengals team that just lost T.J. Houshmandzadeh…I've never seen this guy play, but Stalter thinks that Cornelius Ingram is a sleeper in Philly, though he missed all of last season with a knee injury. When healthy, the guy is a pass-catching stud.
QUARTERBACKS
Rookie QBs are best left to the late rounds, when most of the proven backups are already off the board. There are three guys that look to have a serious shot at starting in '09. The first is Matthew Stafford, who takes over a Lions team in disarray. Working in his favor is the fact that he has Calvin Johnson and Brandon Pettigrew to throw to, Kevin Smith to hand the ball off to, and the Lions' propensity to be trailing 95% of the time. If he can stay upright, it's conceivable that he could have a decent fantasy year…Mark Sanchez was greeted by Jet fans like he was the second coming of Jesus. He doesn't have very many starts under his belt, but he ran a pro-style offense at USC, so if he can pick up the playbook quickly, he should be able to start the season under center. He has Jerricho Cotchery to throw to and a pretty good defense to lean on, so he might be more of a Joe Flacco than a Matt Ryan in his rookie season in the sense that he may be more of a game manager than the leader of a potent offense…Josh Freeman joins a crowded stable of QBs in Tampa Bay, but there's a reason the Bucs took him in the first round. He's big, strong and has a great arm, so if he can pick up the playbook quickly, he has a good chance to start from the get-go.
A very special thanks to Anthony Stalter. You are my hero.
Posted in: Fantasy Football, NFL, NFL Draft
Tags: 2009 fantasy football preview, Beanie Wells fantasy, Bernard Scott fantasy, Brandon Pettigrew fantasy, Brian Robiskie fantasy, Chase Coffman fantasy, Chris Wells fantasy, Cornelius Ingram fantasy, Darrius Heyward-Bey fantasy, Donald Brown fantasy, Fantasy Football, Fantasy football draft strategy, fantasy football rookies, fantasy football strategy, Glen Coffee fantasy, Hakeem Nicks fantasy, Jarrett Dillard fantasy, Jeremy Maclin fantasy, John Paulsen, Josh Freeman fantasy, Juaquin Iglesias fantasy, Kenny Britt fantasy, Knowshon Moreno fantasy, LeSean McCoy fantasy, Mark Sanchez fantasy, Matthew Stafford fantasy, Michael Crabtree fantasy, Percy Harvin fantasy, Shonn Greene fantasy