NFL Draft: 5 First Round Values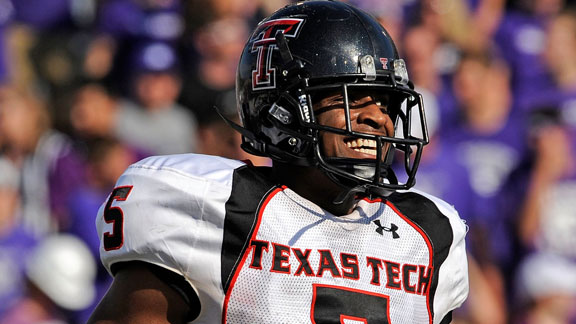 I hate the word "value" on draft day because essentially, all it means is that a team chose a player later than he was projected to go. But who projects where these players are supposed to be selected? The media – not the teams. So is it fair to talk about "value" when we don't know where these teams have these players rated? And value means absolutely nothing if the player doesn't pan out.
That said, below are the five teams who I felt got tremendous values out of their first round picks. These players should have gone much higher based on their talent and potential, yet for whatever reason (i.e. Al Davis took Darrius Heyward-Bey), they slipped. Will they pan out? We won't know for a while, but nevertheless these teams made out well on Day 1.
1. San Francisco 49ers No. 10: Michael Crabtree, WR
For the Niners to land one of the best prospects in the draft at No. 10 was impressive. Teams were scared off by Crabtree's offseason foot surgery and lack of top end speed, but the foot is healed and top end speed doesn't hold as much water in the NFL as it does in college football because everyone is fast in the pros. Go back and watch games of Crabtree at Texas Tech; he catches the ball away from his body, he uses his body well and he performs in the clutch. I know Heyward-Bey has a ton of speed and could turn out to be a great deep threat, but Crabtree is the real deal and the total package. Word is that Crabtree had a very "diva" attitude on visits to Cleveland and St. Louis, but if there's one head coach in the league who could humble the young wideout, it's Mike Singletary.
2. Jacksonville Jaguars No. 8: Eugene Monroe, OT
Monroe doesn't have the athleticism of Baylor's Jason Smith or the overall natural talent of Alabama's Andre Smith, but he's solid across the board. He does have some durability concerns and while he doesn't excel at one fact of the game, he's a steady pass blocker and a mauler in the running game. He was also considered one of the safest prospects in the draft and considering he could have went anywhere in the top 4 picks, the Jags got a steal at No. 8. He'll likely start at left tackle as a rookie and immediately upgrade a Jacksonville offensive line that was decimated by injuries last year.
3. Washington Redskins No. 13: Brian Orakpo, DE
The Skins are seemingly always in need of pass rushers, which is why they gave up a 2009 second record pick for Jason Taylor last offseason. But after they cut Taylor in March, pass rusher once again became a top priority and everything fell right when Orakpo slipped to No. 13. The former Texas defensive end has a great burst off the line and saved his best effort for top competition Oklahoma, Texas Tech, etc.) last year in college. He'll also benefit from playing alongside Albert Haynesworth, Andre Carter and Cornelius Griffin. A case could be made that he should be ranked higher than Monroe on this list, but as I wrote above, Monroe could have gone to any of the top 4 teams and fell to No. 8, which I thought was a great value for Jacksonville.
4. Arizona Cardinals No. 31: Chris "Beanie" Wells, RB
No knock against fellow running back prospects Knowshon Moreno and Donald Brown, but how does Beanie Wells fall this far? He has a great balance of power and speed, has completely healed from the foot injury he suffered earlier in the 2008 college football season and he was arguably the best running back prospect in the draft. For him to slip to No. 31 was a major surprise and he could turn out to be a fantastic steal for the Cardinals. This selection also allows the Cardinals to part ways with free agent mistake Edgerrin James, who wanted out of Arizona anyway.
5. Baltimore Ravens: No. 23: Michael Oher, OT
I'm shocked Oher fell to No. 23, even though there were concerns about his ability to learn an offense at the next level. Still, Baltimore had a need at offensive tackle and when Oher fell past Detroit at No. 20, the Ravens jumped at the opportunity to select him by trading up with New England. With Jared Gaither being as productive as he was last year (he only allowed two sacks), Oher can take his time learning the offense and eventually develop into a starting tackle.
Other 2009 NFL Draft Coverage:
NFL Draft: 5 Second Day Steals
NFL Draft: 5 First Round Values
NFL Draft: 5 Questionable Day 1 Decisions
NFL Draft: 5 Day 1 Winners
Official 2009 NFL Draft Post & Rumor Mill