Tuesday's NBA action just "so-so"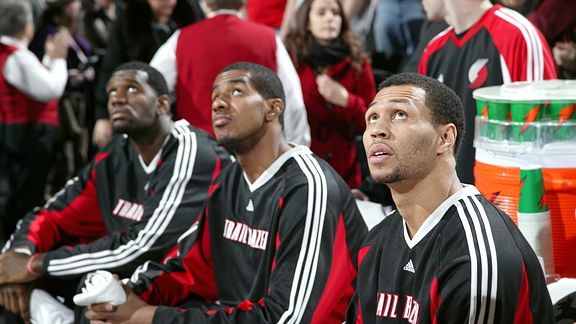 There were three games last night and the best one was on NBA TV, so nobody saw it. The Cavs beat the Pistons (Cavs lead, 2-0), the Lakers beat the Jazz (Lakers lead, 2-0) and the Blazers nipped the Rockets (series tied, 1-1). Here are a few random observations about Tuesday's action:
– It's a bad idea by the NBA to schedule both 1/8 matchups on the same night. Moreover, TNT aired both games while the best action (Blazers/Rockets) was relegated to NBA TV. The Jazz made a game of it against the Lakers, but could never quite get over the hump. Deron Williams was outstanding (35 points, nine assists, four rebounds, four steals, two blocks), nailing six threes but turning the ball over seven times. Six Utah players scored in double figures, but when you allow the Lakers to shoot 60% from the field, you're going to have a tough time winning. (Sorry, I just channeled Hubie Brown's third-person shtick there for a minute.)
– Where in the world is Jordan Farmar? He played just four minutes last night, and has seen his playing time decline from 20.5 minutes per game in November to 16.1 minutes in April. Year to year, his PER has fallen off a cliff — 15.29 last season vs. 9.93 this season — and he's being outplayed by Shannon Brown. Farmar is battling some tendinitis, but he's looking less and less like a future starter and more and more like a career backup.
– Speaking of Brown, he has played at least 14 minutes in each of the last six games, averaging 8.0 points, 2.2 assists and 2.3 rebounds over that span. Brown is really athletic, plays pretty good defense and has an improving offensive game. Interestingly, he was originally drafted by the Cavs, so if he continues to play well, it might come back to bite Danny Ferry in the bum. Mitch Kupchak acquired Brown as part of the Vladimir Radmanovic/Adam Morrison trade a few months ago.
– After dropping Game 1, Portland was in "must-win" mode and they got a much needed victory to tie the series. Brandon Roy came up big (42 points, 7 rebounds) and LaMarcus Aldridge posted a nice game (27 points, 12 boards) after scoring just seven points in Game 1.
– The Rockets will be without Dikembe Mutombo for the remainder of the playoffs (probably forever, actually) after he suffered a knee injury.
– Greg Oden had a nice follow up dunk, but he's a fouling machine. He had six fouls in 12 minutes. Wowsers.
– The trade that sent Rafer Alston to the Magic hasn't hurt the Rockets at all. They also acquired Kyle Lowry from the Grizzlies and he and Aaron Brooks are providing good play at the point. The two combined for 33 points, six assist and five boards on Tuesday night.
– The Pistons cut the Cavs' lead to eight with about four minutes to play, but a Cleveland 9-2 run put the game away. I get confused when I look at the box score and see the Pistons' best perimeter defender — Tayshaun Prince — only played 26 minutes and wasn't in any foul trouble. Meanwhile, LeBron goes for 29/13/6 — do you think Prince should get a little more run?
– In other news, there are reports flying that Derrick Rose will win ROY and Jason Terry will win the Sixth Man award. No surprises there.