Four more prospects declare for the draft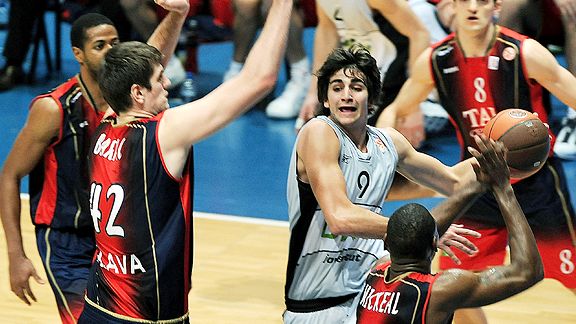 Villanova's Scottie Reynolds, Memphis' Tyreke Evans, Duke's Gerald Henderson and Spanish-leaguer Ricky Rubio all plan to declare for the NBA Draft.
Once John Calipari left for Kentucky, it became clear that the ready-to-bolt Evans was probably as good as gone. Reynolds isn't considered a top prospect; neither NBADraft.net nor DraftExpress.com project Reynolds to go in the first two rounds. With his superior athleticism and improving offensive game, Henderson is projected by both sites to be a lottery pick, so while he'd definitely benefit from another year at Duke, his stock isn't going to go that much higher.
DraftExpress projects Rubio to be the #2 overall pick while NBADraft.net still needs to put him back in their mock. His name was removed midseason when it looked like a buyout would be too expensive, but the increasing financial pressures on his Spanish team have cleared a path for Rubio to enter the NBA sooner rather than later.
I'm not sold on Rubio as a top 5 pick. He's being compared to Steve Nash and "Pistol" Pete Maravich, and while he does have similar ball handling skills, Nash and Maravich can/could really score. Rubio's shot is suspect, so even if he's the greatest passer in the world, he's not going to be worthy of a top 5 pick unless he can put the ball in the hole as well. He fared pretty well at the Olympics against Chris Paul and Jason Kidd, but the NBA is a different game.
We'll see.