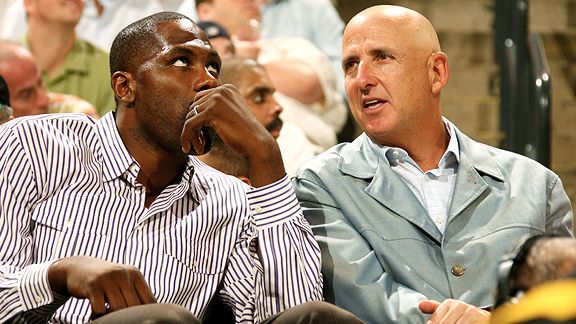 Every year, Bill Simmons runs down the MVP race from No. 450 to No. 1 (don't worry, he skips over a lot of players), and this year is no different.
450. Elton Brand
Dramatically edged out Gilbert Arenas and Tracy McGrady for the coveted LVP ("Least Valuable Player") Award. Here's what pushed it over the top: Not only did EB destroy Philly's cap through 2035, he left the Clips with enough cap space that they reacted the same way looters react during a riot. They wanted to walk out of the store with something … or in this case, Marcus Camby, Ricky Davis, Zach Randolph and a 27-inch Sharp LCD. In a floundering economy, should they have guarded that extra cap room and bided their time like The Team That Shall Not Be Named did? OF COURSE!!!! OF COURSE!!!!! When you include Brand's luring of Baron Davis to the Clippers, causing the Warriors to overreact with $66 million for Corey Maggette and Ronny Turiaf, you could argue that Brand murdered one franchise and gravely wounded two others. Sounds like an LVP to me.

…

166. Manu Ginobili
Ways I'd dissuade my stars from participating in the Olympics or World Basketball Championships if I owned an NBA team: $1 million under-the-table bonus for NOT participating; free lease of a brand-new Maybach every year; bribery with help from a secretly recorded sex session with a hooker I hired to seduce them; blowing up the aforementioned Maybach as a final threat not to go; and finally, kidnapping.
Simmons goes on to compare Wade's career with Jack Bauer's, and describes all the different reasons why ___________ is his 2009 MVP.