Oklahoma City Thunder in the 2010 NBA Playoffs?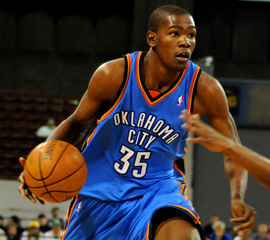 Ric Bucher penned this story in the latest issue of ESPN The Magazine on how the 22-57 Oklahoma City Thunder could make it to next year's NBA Playoffs.
It seems a bit of a stretch, but not altogether ridiculous given the tremendous talent they've been stockpiling over the past couple of years. They're likely to get a top 5 pick in this year's NBA draft, and while I don't see them quite making the postseason next year, the 2011 playoffs are starting to look like a sure thing.
Can you imagine them adding Blake Griffin to their Kevin Durant-Jeff Green-Russell Westbrook core? Scary. Either Hasheem Thabeet or Jordan Hill would help on the inside. Or maybe they go after Spanish point guard Ricky Rubio.
For a 22-57 team, things don't look too bad for the Thunder. Anybody else seeing these guys making a Celtics-like jump next year?