North Carolina dominates Michigan State…yawn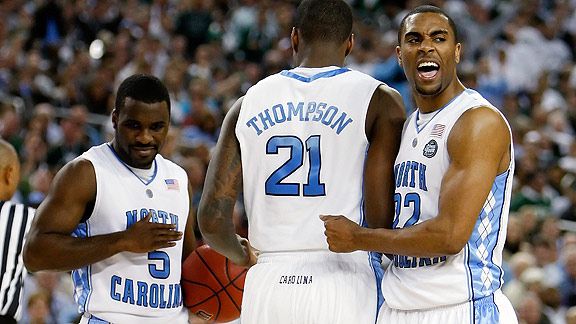 Wayne Ellington couldn't miss, Ty Lawson couldn't drive without getting fouled and Michigan State couldn't handle the ball — this all added up to a 89-72 win for the Tar Heels.
North Carolina jumped out early and Michigan State simply couldn't recover. They looked tight; the jumpers weren't falling and they turned the ball over 21 times, which is a TON. Seemingly every time Ty Lawson put the ball on the floor the officials blew the whistle — he ended up shooting 18 free throws and there were a number of questionable calls. For the most part, the refs called a tight game, and that worked against the Spartans, who are used to the rough and tumble play in the Big Ten. Lawson finished with 21 points, six assists and eight steals.
Michigan State didn't give up; the Spartans had a few opportunities to cut into the lead, but they missed a bunch of threes and anytime the Tar Heels needed a bucket, someone stepped up and knocked down a shot. Ellington and Danny Green combined to shoot 5 of 6 from long range. It was obvious that the estimated 60,000 Spartan fans in attendance were desperate for something to cheer for — but the run never came.
All in all, it was a pretty boring finale to a pretty boring tournament. There were a few buzzer beaters and several good games, but this year's tourney didn't have the drama of years past. I don't know if it was just bad luck or a lack of mid-majors in the field, but it just wasn't quite as exciting as usual.
Maybe they need to go to a BCS-type format…
Just kidding.