Top 5 Potential First Round Busts
Growing up, we were all told that if we studied hard enough, we'd ace tests, understand our homework and get good grades in school.
What's funny is that same philosophy can be applied to NFL teams when they scout the draft, yet they're not guaranteed to succeed in the end. Teams pour countless of hours into scouting the draft and yet they still wind up failing by selecting players that turn out to be busts.
Pundits will brag that it's easy to spot potential first round busts, yet teams continue to draft flops every April. The teams that usually do well (Steelers, Patriots, Colts, etc.), are the ones that can spot players that fit their specific offensive or defensive schemes. They limit the risk of taking a bust because they can scout prospects that fit specific roles within their overall team philosophies.
But for the teams that are still enamored with drafting the best player available regardless of scheme, or the ones that draft for need and ignore everything else, I've ranked the top 5 potential first round busts in this year's NFL draft. Granted, it's easy to list all of a player's weaknesses and label them as a potential bust, but I tried to compile the five prospects that demonstrate specific concerns for pro teams.
(Side note: I understand that some of these players could slip to the second round, but all of them are currently projected to go in the first round in the majority of online mock drafts.)
1. Andre Smith, OT, Alabama
NFL draft pundits and Tide fans alike will rave about Smith's talent. They're right – Smith is incredibly talented, so talented that he should be the top offensive line prospect taken in the draft. But he was suspended by Nick Saban for the 2009 Sugar Bowl because of an off field issue involving his eventual NFL agent, which immediately raised red flags about his character. Teams were willing to put the incident in the rearview mirror, but then Smith showed up to the NFL scouting combine in February overweight and he even admitted that he was out of shape. Then, for reasons that are still rather unclear, he disappeared from the combine when he was supposed to workout. A couple weeks later at his Pro Day, some media outlets reported that Smith performed anywhere from fair to terrible. The bottom line is that even though Smith could have a brighter future than fellow tackle prospects Jason Smith (Baylor) and Eugene Monroe (Virginia) just based on talent alone, he comes with more baggage than the underbelly of an airplane and there's no telling if he has the mental fortitude to make it through even one NFL season. Throw in the fact that he's known for being highly unmotivated and you have to wonder why any team would be willing to spend a high first round pick on Smith.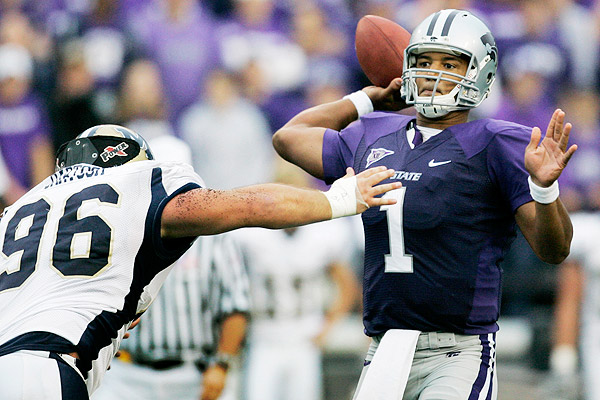 2. Josh Freeman, QB, Kansas State
At 6'5", 248-pounds, Freeman is a athletic marvel. He has the best physical tools of any quarterback prospect in the draft and he played in a pro style offense at K-State, which usually is an indication that a player can succeed at the next level. He's also durable, coachable and is tough as nails. But even with all that going for him, Freeman is incredibly raw and had a fair amount of trouble reading defenses in college. He also only completed 58.6 percent of his passes his senior junior year and his footwork is shaky at times. Freeman is the prototypical boom or bust prospect and whichever team winds up drafting him, they better already have a strong supporting cast that they can surround him with and also be willing to bring him along slowly.
3. Michael Johnson, DE, Georgia Tech
Johnson wasn't even considered to be a top 5 defensive end prospect after the college season concluded, but after he blew up at the scouting combine and turned in an outstanding Pro Day workout, he has skyrocketed up mock draft boards everywhere. Many pundits consider Johnson to be a potential sackmaster because of his size (6'6", 266 pounds) and explosive burst off the line. But he only compiled 17 total sacks in college and looks like your typical "workout warrior" that jumps into the first round after performing well at the combine. Considering he has been known to take plays off and is a non-factor against the run, he's too much of a risk in the first round – even for teams drafting towards the bottom.
4. Vontae Davis, CB, Illinois
For the record, I love Davis. I like his confident style of play and his big play ability. But while he outperformed fellow top cornerback prospect Malcolm Jenkins (Ohio State) at the scouting combine, it doesn't erase the fact that Davis is a potential bust given his inconsistent play in college and his questionable attitude. He apparently clashed with his coaches at Illinois and his work ethic has also been questioned. He's been known to freelance too much in coverage and has also demonstrated poor instincts. A lot of pundits feel as though Jenkins could be a first round bust because he doesn't run well and had a dismal showing at the combine. But in a Cover 2 scheme, Jenkins would be perfect because he's instinctive, smart and is a solid tackler. Davis, who runs extremely well and did have a decent combine, has the ability to be a solid cover corner. But what's the use of having all the physical tools at your disposal if you're not going to use them intelligently? Davis has tons of upside, but he's also quite the risk. (Think DeAngelo Hall if you're looking for a pro to compare him to to compare him to a pro.)
5. Jeremy Maclin, WR, Missouri
Teams have fallen in love with Maclin's phenomenal athleticism, terrific speed and solid hands. As either a receiver or a punt returner, he's liable to take it to the house on every single play and that's why teams are willing to invest a high first round pick on him. But there are three distinct things that should have teams worried. One is that he isn't a polished route runner (and that's arguably the most important skill a pro receiver should have because straight-line speed means nothing if the defensive back isn't fooled). The second is that he played in a spread offense at MIZZOU, which means he'll have to spend time learning a pro-style offense once he reaches the NFL. And lastly, he suffered a major knee injury in 2006, although in fairness, he did bounce back to play in 14 games each of the last two years. Is Maclin worthy of a first round pick? Absolutely. But there are some glaring question marks that could make him a potential bust.