Report: Tim Floyd to take Arizona job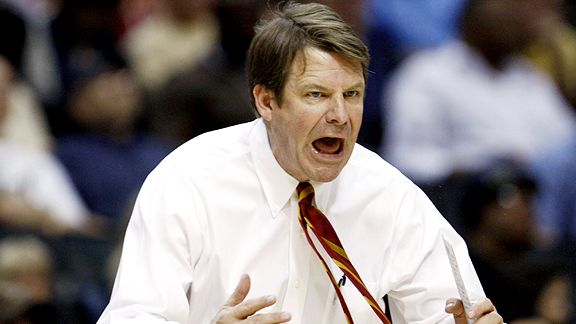 So much for those Pitino-to-Tuscon rumors. It looks as if Tim Floyd is poised to take over as head coach at Arizona.
Tim Floyd will be named basketball coach at Arizona, Mark Asher of Sports 620 KTAR, ESPN's radio affiliate in Phoenix, is reporting according to multiple sources.

Floyd met with Arizona athletic director Jim Livengood on Wednesday night to work out the final details of the deal and an announcement is expected Thursday, according to sources.

Floyd, 55, has spent the last four seasons at USC with an 85-50 record. He led the Trojans to three NCAA tournament appearances — including the Sweet 16 in 2007.

Floyd previously coached in the NBA with the Chicago Bulls in 1999-2002 and the New Orleans Hornets in 2004.

He was also the head coach at Iowa State, New Orleans and Idaho.
Floyd is certainly a proven recruiter (O.J. Mayo, DeMar DeRozan), but I wonder if Arizona fans were expecting a bigger name to come to Tuscon. Rick Pitino recently bought a house there, which fueled speculation that he'd take over as head coach, but apparently sometimes a real estate transaction is just a real estate transaction.