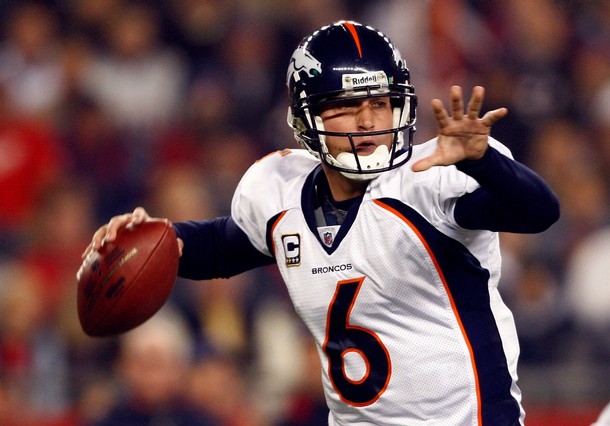 Several media outlets are reporting that the Broncos have traded quarterback Jay Cutler to the Bears in exchange for first round picks in 2009 and 2010, a third round pick in 2009 and Kyle Orton. Denver will also give up an undisclosed draft choice in the later rounds.
It's amazing how this entire situation unraveled. Two months ago there wasn't a peep about a potential Cutler trade and now he's set to become a Bear. One has to wonder whether Cutler wanted out as soon as Denver fired Mike Shanahan and when he saw an opening (i.e. Josh McDaniels' supposed interest in former Patriots' quarterback Matt Cassel), he took it and ran with it.
Even though they gave up a king's ransom to acquire him, Chicago fans have to be ecstatic. They get a young quarterback with plenty of starting experience and one that has a strong arm to play in poor, late-season weather conditions. The bottom line is that the Bears haven't had a reliable quarterback in nearly 20 seasons and now they have one who has the potential to succeed. Two first round picks are a steep price, but as I wrote yesterday, GM Jerry Angelo was probably going to blow those picks anyway (Chris Williams instead of Branden Albert, Jerry? Really?!) so Chicago might as well get a franchise-type quarterback instead.
Another note about the compensation, you have to remember that Cutler is a young quarterback with starting experience and who was sought after by multiple teams. And when you factor in how weak the quarterback class is this year, any team that wanted Cutler was going to have to give up several high draft picks like the Bears eventually did.
Cutler should also make guys like Matt Forte better around him. And if the Bears can sign Orlando Pace (which shifts Williams over to right tackle and Frank Omiyale to guard), then the offensive line would be upgraded as well. If the team could land a decent receiver prospect like Ohio State's Brian Robiske in the second round, then the Bears, who had been quiet, would have turned in a solid offseason.
For the Broncos, the two first round picks are nice, but now they have a glaring need at quarterback. "Neck Beard" Kyle Orton has shown flashes of potential and maybe given quality receivers like Brandon Marshall and Eddie Royal, along with a more innovative offense like the one McDaniels is set to run in Denver, he can succeed. But chances are neither Orton nor Chris Simms is the Broncos' long-term answers at quarterback and they'll look to select a signal caller in one of the next two drafts.
The nice thing is that McDaniels now has the opportunity to pick the quarterback he fills can best run his offense, because rumor had it he didn't believe Cutler could. It remains to be seen whether or not Denver will target a quarterback prospect like USC's Mark Sanchez in this year's draft, but at least now they've rid themselves of the Culter mess and can concentrate on reshaping their roster again.