Iverson would "retire" before coming off the bench again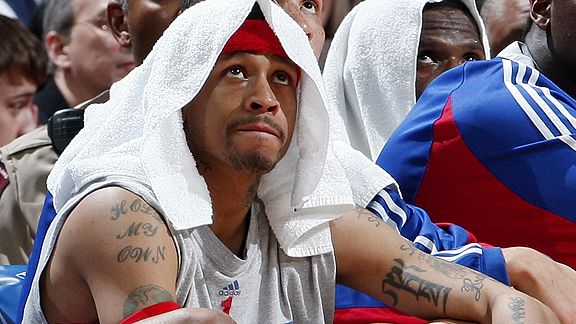 It's safe to say that the Chauncey Billups-for-Allen Iverson trade hasn't worked out very well for the 2008-09 Detroit Pistons. The team is 36-39 and is just two games ahead of the 9th place Charlotte Bobcats. The two teams play on Sunday in Detroit, and if the Bobcats can pull out a win, they will be very much in the thick of a playoff spot, meaning that the Pistons could miss the postseason for the first time in…well…forever. (Meanwhile, Billups' Nuggets are in second place in the West and have won nine of their last 10 games. And Chauncey gets to look at "Bouncing Bridget" every time the Nuggets play a home game.)
Iverson has been fighting a sore back and shin, and the Pistons have elected to use him off the bench for the last three games. During that span, he's averaging 18.7 minutes, 7.7 points (on 36% shooting) and 2.7 assists. And he's none too happy about his playing time.
Reporter: You made a comment the other day about how this is a temporary situation. What did you mean by that?

Iverson: I won't do this again, in my career. I'll retire before I do this again. I would leave the game before I do this. I can't be effective like I know I can playing this way. It's just that I'm not used to it. Just not something I've had to do. Like I said, it's hard for me mentally and physically.

Reporter: So, on a positive note, what can you say about guys coming off the bench?

Iverson: Like I said. I take my hat off to the guys that can do it. And some guys get used to it. They've done it before. Like I said, I've been playing basketball since I was eight-years-old, and I never had to do it. At 33-years-old, to have to adjust to something like that it's kind of tough. That's something I'm dealing with as far as my rhythm, my timing and like I said, the mental part of that.
With the trade, Joe Dumars gave the team a ton of flexibility to rebuild over the next couple of years, but he really sunk these 2008-09 Pistons. With Billups on the roster, they'd be a top 4 team in the East, and with the injuries to Boston's Kevin Garnett and Orlando's Jameer Nelson, they'd have a legitimate shot at being the second-best team in the conference. Is that enough?
I don't know — one injury to LeBron and suddenly the Pistons would be first in line to go the Finals. That seems like a good thing, right?
Only time will tell what kind of free agents Dumars will be able to attract over the next couple of summers. Then we'll know if this Billups-for-AI swap was worth it.