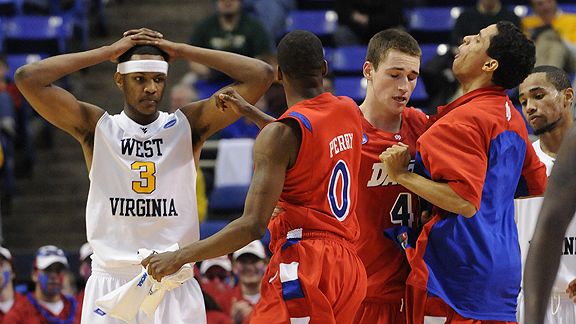 In honor of "drebola," who said the following over on Reddit…
I love Paulsen's analyses, but in practice they're actually useless. I replicated his bracket for one of my pools and it faillled. (Notice you don't see any coverage of "how well is my bracket doing" on his site… or do you? I don't know, I don't see it.)

Particularly because he relies a lot on Sagarin ratings. I keep meaning to come up with a figure for how well Sagarin ratings performed so far in this tournament but haven't gotten around to coming up with a solid methodology.
…I am going to provide some coverage of how well my bracket is doing. (I thought I did this in my Sweet Sixteen preview intro and in Part III of my March Madness diary, but I'll summarize here for anyone who thinks I'm dodging my past.)
The first round was rough, and I only got 22 of 32 games correct (but my worst loss was an Elite Eight team, so it's not like it killed my bracket). Of those 10 losses, six were by four points or less; Ohio State, Utah State, Clemson, Illinois, Butler and Florida State lost by an average of 2.7 points, so these are games that could have gone either way. Conversely, I only won two games — UCLA and Oklahoma State — by four points or less.
West Virginia lost by eight, but the game was close the whole way, and even Utah kept its game close deep into the second half before giving up a late run that made the score look worse than it actually was. There were two bad picks — BYU and Wake Forest, and I'm betting a lot of people got that the last one wrong. They were the #1-ranked team at one point this season — who's expecting them to lose to Cleveland State?
The commenter says I rely on Sagarin too much, but I have found that over the last three years, when a team has a 2+ point advantage in Sagarin, they win at an 85% clip. Anyway, this method went 21-8 in the first round, but bounced back in a big way with 12-0 in the second round, so I finished with 13 of the Sweet Sixteen teams. I would have had 14 of 16, but Washington lost to Purdue by two in Portland. This is another game that could have gone either way.
And for those that didn't read the original column, I was torn about who to pick in a potential WVU/Kansas matchup, so I suggested to do one pool with each, though my "official" pick was WVU. The Mountaineers had just beat Pitt in the Big East tournament and hung with a very hot Syracuse team, so I thought they would make a run.
Looking ahead, the biggest game for my bracket this week (outside of Pitt needing to survive) is Gonzaga over North Carolina. I made this pick thinking that Ty Lawson would not be healthy enough for UNC to make a deep run. A week later, I'm still not sure of his health. He scored well against LSU, but it was a rough go and he was obviously hobbled by the toe. Gonzaga is not playing particularly well right now, but they are deep and have six guys that can hit the three (something that the Tar Heels are poor at defending), so if the Bulldogs get hot, watch out.
Now the commenter said that he replicated my bracket and it "faillled," so that must mean he's out of the running. I'm in three pools, which have 26, 31 and 105 entries, and I'm still alive in all three. The bottom line is the bigger your bracket, the longer your chances of winning it all. This is common sense. If I'm still alive in the 105-entry bracket (with three #1 seeds making the Final Four), then I have to feel pretty good about my picks.
Based on Pitt's play so far, I'm not so sure that I'll be able to push my streak of picking the overall winner to three (2007, 2008). I've won money the last two seasons, so I think that would qualify my analyses as useful instead of "useless," but this is a subjective world we live in.