Bracket update and Sweet Sixteen preview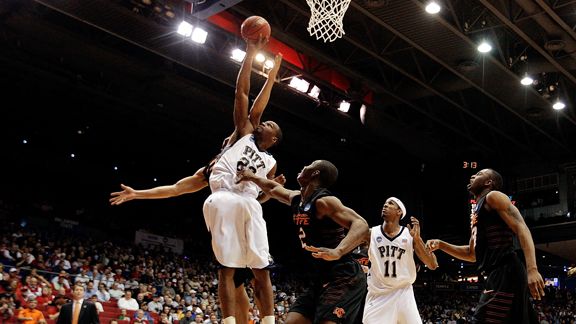 Those of you that followed my picks, or at least leveraged my analysis to some extent, should find that you're still alive in your pool. Unless, of course, your pool is so big that even if all of your picks come in, there is someone who's already ahead of you that has predicted the same outcome.
I'm in three moderately sized pools – 26, 31 and 105 brackets – and I'm still very much alive in each one. Essentially, I need to get three of my Final Four picks – Pitt, UConn, Louisville and Gonzaga – to come in, and Pitt needs to win it all. Granted, with the way the Panthers are playing (and the Bulldogs, to a certain extent), I don't feel great about my chances, but I'm still alive and that's all you can ask for. If I had it to do all over again, I think I'd take UConn to win it all. They have been by far the most impressive of the top seeds. Still, if I'm right and it's a Pitt/UConn final, you have to like the Panthers' chances after already beating the Huskies twice this year.
If you've been following our coverage, you'll probably know that the 2+ point Sagarin favorites got off to a rough start in the first round (21-8, or 72%). Normally, this system hits at about an 85% rate, so it makes sense that it bounced back in a big way (12-0) in the second round, making it 33-8 (80%) through two rounds. (Keep in mind, even though the Sagarin ratings change throughout the tourney, I'm sticking with the pre-tourney ratings when calculating overall records because that's all we have to go by when we're filling out our brackets.)
The Kansas/West Virginia game was a tough call, but I sure didn't think that the Mountaineers would lose to Dayton. Since I entered three pools, I picked Kansas in one pool to go to the Elite Eight instead of West Virginia, and needless to say, my margin for error is a bit wider in that bracket.
But enough about my brackets – let's move on to the preview of the Sweet Sixteen. I'll give my thoughts on each of the eight games, provide some statistics and maybe recommend a wager or two for the gamblers out there. Any Sagarin stats I refer to from here on out are the updated numbers, because I'm going to try to predict the future instead of measuring the past.
THURSDAY'S GAMES
#5-seed Purdue vs. #1-seed UConn (in Glendale, AZ)
Tip-Off: 7:07 PM ET
Sagarin Ratings: UConn (93.81), Purdue (87.70)
Line: UConn -6.5
The Boilermakers got off to a great start against Washington and held off a late run with some solid defense. Meanwhile, UConn has coasted, outscoring their two opponents 195-113. The Huskies will be challenged in this game because Purdue isn't going to give up. They're going to keep coming at you, so if you don't stay focused for 40 minutes, you may be in trouble. But the bottom line is that UConn has more talent, and they should be a six- or seven-point favorite. Purdue's best bet is to run an effective pick-and-roll, which is a good way to pull Hasheem Thabeet away from the basket and potentially get him into foul trouble. Thabeet will probably be covering JaJuan Johnson, so if he screens for E'Twaun Moore 20 or 30 times over the course of the game, the Bollermakers might be in business. The Sagarin difference and the line are about the same, so I wouldn't recommend putting any hard-earned dollars on this game. UConn should be able to pull this one out, but unless the Huskies run them off the court, Purdue should have enough grit to keep it close.
#4-seed Xavier vs. #1-seed Pittsburgh (in Boston, MA)
Tip-Off: 7:27 PM ET
Sagarin Ratings: Pittsburgh (91.83), Xavier (87.02)
Line: Pitt -7.0
Outside of their ability to finish games, Pitt has not been very impressive thus far in the tournament. Sam Young has been great, averaging 23 points and 11 rebounds per game, but after a terrific game in the first round, DeJuan Blair (10 points, 12 rebounds) struggled to get going against Oklahoma State. But the big problem is on the defensive end. In the first round, they gave up 19 offensive rebounds, which kept East Tennessee State in the game. Against the Cowboys, Pitt allowed 12 made threes (43% overall), which kept the game close deep into the second half. The Musketeers are capable of hurting them in both areas. While Xavier is in the middle of the pack as far as percentage of points coming from behind the arc, they shoot 40% from long range (13th in the country) and have four guys that are capable of getting hot. The Musketeers are terrific on the offensive glass, averaging almost 12 rebounds per game. Pitt is poised under pressure, so I'd still pick them to win the game, but there's a 2+ difference between the Sagarin ratings and the line, and given the way Pitt has performed thus far, I think Xavier +7 is a solid bet.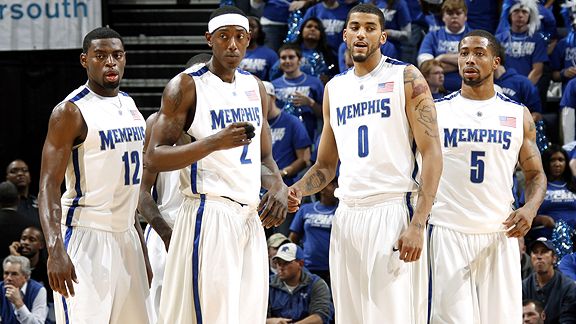 #3-seed Missouri vs. #2-seed Memphis (in Glendale, AZ)
Tip-Off: 9:37 PM ET (approximate)
Sagarin Ratings: Memphis (92.38), Missouri (90.47)
Line: Memphis -4.5
After struggling against Cal State Northridge's zone defense in the opening round, Memphis coasted past Maryland with a 19-point win. Numbers-wise, they are the top defensive team in the country in terms of effective field goal percent. Missouri likes to push the ball, but they're good about not turning it over. In terms of pace, Mizzou is second only to North Carolina in pushing the ball. Memphis would be wise to try to slow things down and force Missouri to score against their vaunted half court defense. Memphis has the advantage in the backcourt while Mizzou is probably stronger up front. Given how important guard play in the tournament, I have to pick Memphis here, though Mizzou +4.5 is tempting given the Sagarin ratings (but not tempting enough).
#3-seed Villanova vs. #2-seed Duke (in Boston, MA)
Tip-Off: 9:57 PM ET (approximate)
Sagarin Ratings: Duke (91.46), Villanova (88.24)
Line: Duke -2
The Wildcats came out like gangbusters against UCLA on Saturday and attacked the rim. They aren't very big up front, but neither are the Blue Devils. The Wildcats have the advantage in athleticism, but Duke has improved in this area by Coach K's decision to bench Greg Paulus in favor of Elliot Williams. The Blue Devils aren't going to fare well unless their three-pointers are dropping, and Villanova is just average in defending the arc (34%), so there is some opportunity there. This all points to a tight game that is too close to call. I'll take Duke because they are a 3+ point Sagarin favorite, but it doesn't mean I have to feel good about it.

FRIDAY'S GAMES
#12-seed Arizona vs. #1-seed Louisville (in Indianapolis, IN)
Tip-Off: 7:07 PM ET
Sagarin Ratings: Louisville (91.08), Arizona (84.76)
Line: Louisville -9
And they say there aren't any Cinderellas…don't the 12-seeded Wildcats count? I guess when you run three future NBAers out there in your starting lineup, you lose the right to be called a Cinderella. (Instead, you're just a regular season underachiever.) Arizona has the talent to play with anyone, and Louisville showed a little vulnerability when they struggled to put Siena away. Next to Memphis, the Cardinals are the second-best defensive team (in terms of efficiency) in the country, and I don't see Arizona upending Louisville, especially when the game is in Indianapolis, less than two hours from the Louisville campus. I wouldn't give the points, though. You never know which Arizona team could show up.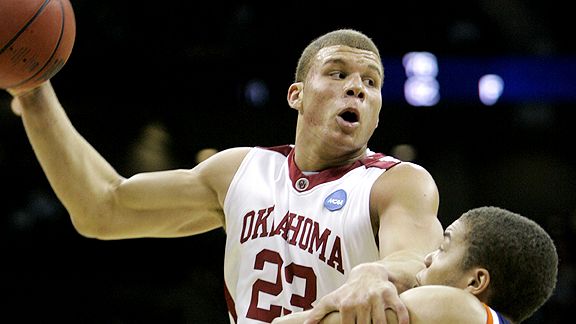 #3-seed Syracuse vs. #2-seed Oklahoma (in Memphis, TN)
Tip Off: 7:27 PM ET
Sagarin Ratings: Oklahoma (89.37), Syracuse (88.90)
Line: Oklahoma -1
I think this game is going to come down to the Sooners' ability to defend the three-point line. On the season, Oklahoma has allowed opponents to hit 34.1% of their threes (162nd in the nation) and with Eric Devendorf, Andy Rautins and even Jonny Flynn, the Orangemen have a number of guys that can hurt you. Their patented zone should be able to limit Blake Griffin's production, though the Sooners have four guys that can knock down shots from long range. The problem is that Syracuse is 6th in the country in opponents' three-point percentage, so it's doubtful that those guys will be able to get off. This should be a close one, but Flynn is playing about as well as any point guard in the country right now, so I'm going with the Orange, and I think this is a pretty solid bet too.
#3-seed Kansas vs. #2-seed Michigan State (in Indianapolis, IN)
Tip-Off: 9:37 PM ET (approximate)
Sagarin Ratings: Kansas (89.77), Michigan State (88.11)
Line: Michigan State -2
I didn't really like the Spartans to make the Elite Eight and I still don't. This game is going to feature a couple of great battles. First, there's the point guard matchup between Big Ten POY Kalin Lucas and Big 12 First Teamer Sherron Collins. Inside, Goran Suton will try to slow down Kansas' Cole Aldrich, who had 13 points, 20 rebounds and 10 blocks in the Jayhawks' second round win over Dayton. Assuming Aldrich can stay out of foul trouble, I think Kansas wins both matchups and as a result, the game. So Kansas plus the points seems pretty attractive, though the Jayhawks will need a third scorer to complement their Big Two. (But be warned, I've underestimated Michigan State before.)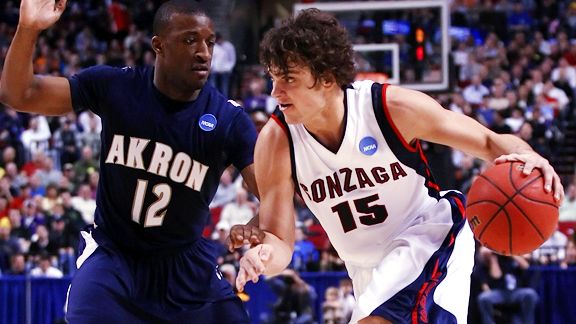 #4-seed Gonzaga vs. #1-seed North Carolina (in Memphis, TN)
Tip Off: 9:57 PM ET (approximate)
Sagarin Ratings: North Carolina (94.07), Gonzaga (90.48)
Line: -8.5
In all likelihood, this game is going to come down to the health of Ty Lawson's big toe. Lawson came out of the Tar Heels' second round game against LSU because "something popped," but he returned to the game to score 23 points and dish out six assists. We won't know until later this week whether or not he'll be able to go, but my guess is that he's still going to be limited somewhat even if he does play, and Gonzaga has a number of good guards to throw at him. North Carolina is 227th in the country in opponents' three-point percentage (35%) and the Bulldogs have six guys in their rotation that hit better than 36% from long range. Clearly, Gonzaga has to play better than they have thus far in the tournament to upend a #1 seed, but this is an opportunity for the program to prove that they're not just a good mid-major, but that they belong. Also, with a tip at close to 10 PM ET, I'm wondering if the Tar Heels might be ready for bed sometime in the second half. (Don't underestimate the impact of melatonin.) Barring a miraculous improvement in Lawson's toe, I really like Gonzaga and the points here, and the money line (+350) is pretty tempting too.