Did the Falcons snub Keith Brooking?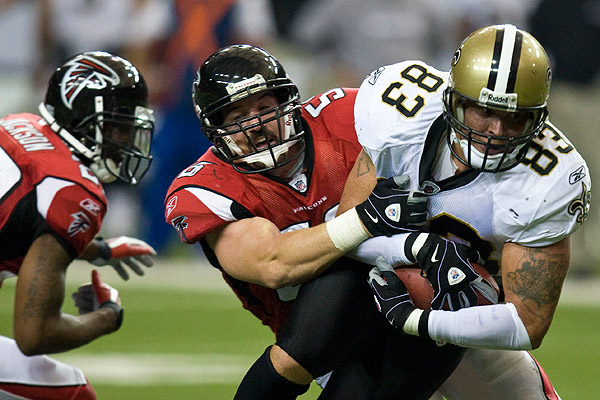 So I'm watching ESPN News the other day and this scrolls at the bottom of the screen: Falcons sign LB Mike Peterson.
Not a bad move.
Considering they lost Keith Brooking and Michael Boley to other teams in free agency, the Falcons were in desperate need of linebackers and Peterson is familiar with head coach Mike Smith and defensive coordinator Brian VanGorder from their days in Jacksonville. Plus, Peterson surely came cheaper than Brooking, which was part of the reason Atlanta GM Thomas Dimitroff allowed him to walk when he became a free agent last week. (Brooking wanted to re-sign with Atlanta, but eventually signed a three-year, $6 million contract with the Cowboys when it was clear the Falcons wanted to go in another direction.)
Then I read the details of Peterson's contract: Two years, $6.5 million.
So the Falcons didn't want Brooking back because he's a 33-year old linebacker with deteriorating skills and is weak in coverage. Yet they signed Peterson (for more money mind you), who is a 32-year old linebacker with deteriorating skills, is weak in coverage and was suspended one game for pissing off his head coach (Jack Del Rio) last season?
Ooooookay.
I'm not criticizing the Falcons for allowing Brooking to walk. His best days are clearly in the rear view mirror (see the Falcons' playoff game against the Cardinals last year as proof) and he wasn't going to be part of the long-term picture in Atlanta even if the team did re-sign him. But he would have given his left testicle to the Falcons at the drop of a hat and throughout his entire career he never complained once despite being asked to play multiple linebacker positions in multiple schemes.
Nothing against Peterson, but he's probably only a small upgrade over Brooking at this stage of his career, yet the Falcons were willing to hand him more money (not a lot more money, but more money nevertheless). I get that Peterson has ties to Smith and maybe he'll be rejuvenated after reuniting with a familiar face, but were those ties greater than the ones that Brooking had with the Falcons? (Brooking played 11 seasons in Atlanta, led the team in tackles for most of those years and was the last member of the 1998 Super Bowl team.)
In the end, this won't be an issue. Brooking would never say the Falcons snubbed him (they did hold a fair-well presser for him after all) and truth be told, both linebackers will probably be backups in 2010 anyway. But I just found it a little interesting that Atlanta wanted to revamp the defense (and maybe they still will by adding young linebackers via the draft), so they let Brooking walk and give more money to a similar player to take his spot.