Clemens evidence tests positive for banned substances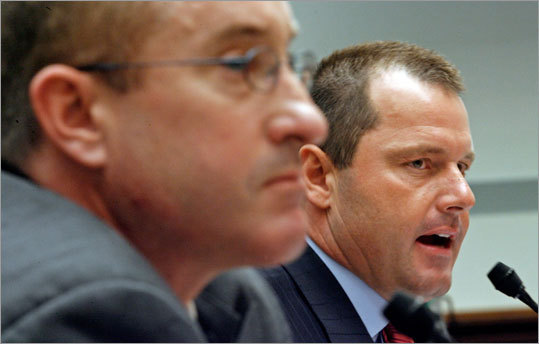 Turns out, Roger Clemens might have been lying all along about not taking performance enhancing drugs. Who would have thought?
Federal authorities investigating Roger Clemens on perjury charges have found performance-enhancing substances on the drug paraphernalia that his former trainer said he used to inject Clemens, according to people briefed on the case.

The discovery of the substances could bolster the claims of the trainer, Brian McNamee, that he used the various items — including syringes, vials and gauze pads — to inject Clemens with steroids and human growth hormone.

If the federal prosecutors move to indict Clemens and seek to use the substances found on the drug paraphernalia as evidence, Clemens's lawyers are expected to question their authenticity and the chain of custody. Clemens's lead lawyer, Rusty Hardin, said Monday night that he was not surprised to learn that performance-enhancing substances had been found.

"Duh," he said with exaggeration. "Do you really think McNamee was going to fabricate this stuff and not make sure there were substances on there? The fact is Roger never used steroids or H.G.H."
Clemens has been an arrogant S.O.B. the moment his name was linked to banned substances so even though it's painful to back a weasel like McNamee, I'm rooting for the evidence to prove the Rocket has been lying this entire time. They're both liars, but Clemens has just been so smug this entire time that it would be nice to see him put in his place. By the looks of the comment above, Clemens' lawyer is arrogant and smug, too.