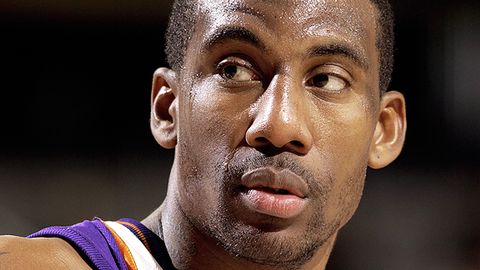 That appears to be the case, at least according to ESPN's sources.
After the Suns spent several days taking and making phone calls on potential trades for Amare Stoudemire and Shaquille O'Neal, NBA front-office sources told ESPN.com that Phoenix — having received a series of underwhelming proposals for Stoudemire — prefers now to leave its core intact for the rest of the season to see if new coach Alvin Gentry can do more with this group than the outgoing Terry Porter.

"I got the impression today that [the Suns] are standing pat," said one source with knowledge of the team's thinking.

Said another source close to the situation: "That is very accurate."

Officials from two other teams told ESPN.com on Monday that the Suns' willingness to consider offers for Stoudemire has been scaled back considerably from last week, when Stoudemire himself seemed resigned to being sent elsewhere, telling reporters: "I know for sure, wherever I go, we're going to definitely be playoff contenders."

At a news conference to announce Gentry's hiring, [Steve] Kerr stopped short of promising that the Suns would sit out the deadline completely, but did add: "I'd like to keep what we have and go forward and see what we can do," Kerr said.
Well, well, well…it appears that cooler heads may have prevailed. It could be that the Suns realized that they weren't going to get equal value for their superstar or they may have decided that he wasn't the problem after all. The dismissal of Terry Porter would indicate that management places a fair amount of blame for the Suns' inconsistent play at his feet.
After all this build up, the Suns may very well decide to keep Stoudemire through the end of the season. Salary cap ramifications aside, I think this is the right call.