Should the Spurs trade for Vince Carter?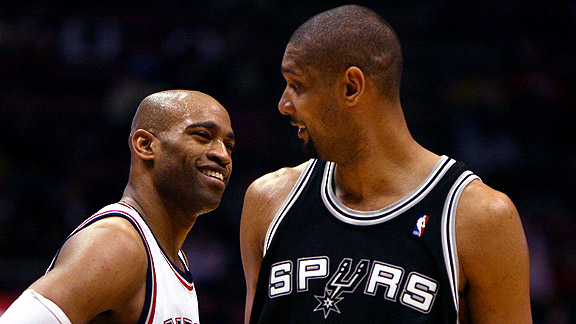 There has been some talk of late that the Spurs are interested in acquiring Vince Carter.
Duncan says he would love to have Carter as a teammate, and why not? At age 32, Carter remains one of the NBA's most productive small forwards, averaging 20.8 points, 5.1 rebounds and 4.9 assists.

Duncan hedges when the price for Carter reportedly includes Roger Mason Jr., Bruce Bowen, George Hill and Fabricio Oberto.

"I'd hate to see that many guys go," Duncan said after an All-Star appearance he enjoyed, largely because of its brevity.

If general manager R.C. Buford can find a way to get Carter from the Nets without including so many rotation players — a Robert Horry sign-and-trade could be part of such a solution — it is easy to imagine Duncan giving such a deal the blessing Popovich likely would seek.
Here's a look at the proposed trade in the ESPN Trade Machine. Kurt Thomas could also be substituted for Oberto.
Of the four Spurs that would be heading to New Jersey, the team would miss Roger Mason, Jr. the most. He's playing over thirty minutes a game and has hit several clutch/game-winning threes this season. In fact, he's shooting almost 45% from long range; he's exactly the kind of player that the Spurs need to space the court for Duncan, Ginobili and Parker in crunch time. There is no doubt that Vince Carter is a better player, but he's also a different player, and that's what should scare Spurs fans about this deal. San Antonio is 26-9 since the beginning of December and they are arguably the second-best team in the West. Their current roster is capable of giving the Lakers fits if the two teams were to meet in the playoffs, so is it worth the risk to add Carter to the mix?
Hill is the piece that San Antonio is most likely to miss in the long term. He has played very well in his rookie season and has finally given the Spurs a proper backup to Parker. He looks like he'll be a starting-caliber point guard in a year or two, so they'd be giving up on his potential as well. Bowen can still defend in spurts and hit the corner three and Oberto is a big, beefy backup on the front line (though he isn't playing much this season).
Without those four, the Spurs would have a rotation that would include Duncan, Ginobili, Parker, Carter, Finley, Thomas, Bonner and Udoka. I think Gregg Popovich trusts those eight guys, but what happens if one of them gets injured? Does he have faith in any of the other guys further down the bench?
My guess is that the Nets would do the deal if Mason, Hill and (maybe) a first round pick were included. It would give the team incredible cap flexibility in the summer of 2010. With Devin Harris and Brook Lopez already on board, New Jersey would become an attractive landing spot for one (or two) of the big name free agents that should be available that summer.