Six Pack of Observations: NBA All-Star Saturday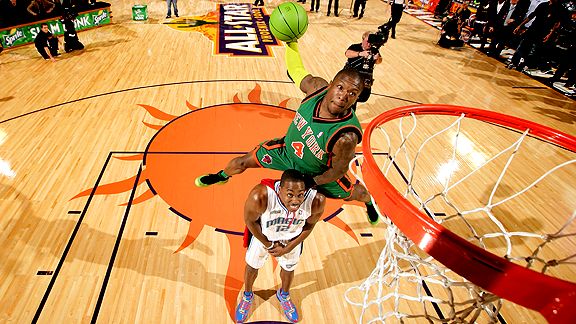 Last night, the NBA held its Shooting Stars (zzzzz), Skills Challenge (zzzz), Three-Point Shootout and Slam Dunk Contest. Here are a six random observations about the night's events, which include some breaking news for those that missed the event.
1. It would be nice if the contestants in the Skills Challenge would actually try to win.
Devin Harris looked like he was in another gear compared to his competitors, but struggled with the passing and shooting and ultimately finished second to Derrick Rose who was just about perfect in those parts of the course. Mo Williams looked like he didn't even want to be there and Tony Parker couldn't make a jumper to save his life. Harris was the only one that was actually putting forth any effort during the dribbling portion. Most of these guys are more interested in looking cool than looking like they want to win, and that's a shame.
2. Did Kenny Smith take annoying pills just before the Three-Point Shootout?
When he wasn't declaring that the eventual champion (Daequan Cook) didn't have a chance to win the contest, he was flip-flopping like crazy during each round. At one point, during the middle rack of balls, he said that Rashard Lewis didn't have a chance to advance, and then when Lewis his four out of five on the final rack to advance, Smith said, "I told you so." I was rooting for Cook just to see Smith eat crow, and he never did. On a side note, Reggie Miller and his sister have the most non-broadcast type voices. I like what Reggie has to say, so he gets a pass, but I'm not sure what Cheryl brings to the table. (To be fair, that's probably true of any sideline reporter not named Erin Andrews.)
3. Do away with the time limit.
The dunk contest has seen a resurgence in its popularity of late, and that's in no small part to the creativity of Dwight Howard in last year's event. But the one-minute time limit takes some of the pressure out of the event. It's anti-climatic to watch Rudy Fernandez miss the same dunk eight times only to make it on his ninth attempt. I'd like to see each guy get three attempts for each dunk and if he can't complete it, he has to live with his score. That forces players to attempt dunks that they can actually complete. The downside is that guys will be less likely to take chances, which is sort of what has made the contest popular again.
4. Dwight Howard was a victim of his own poor strategy.
Howard should have saved his dunk on the 12′ rim for the final round. After his 50-point first dunk in the first round, he was a shoe-in for the finals, so he essentially wasted the 12′ dunk when it should have been his finale. His free-throw line dunk had been done before, and it didn't look as impressive with a seven-footer doing it. Had he swapped this dunk with the 12′ dunk, he probably would have defended his title. (And how impressive was his 12′ dunk? He did it with ease. The guy is a freak.)
5. Props to Nate Robinson for one-upping Superman with kryptonite shoes.
For those that missed it, Robinson went to the locker room after the first round and changed into a green New York Knicks uniform complete with neon green kryptonite shoes. It was a great idea that I'm sure won over a few folks at home.
6. LeBron James said that he plans to participate in the 2010 Slam Dunk Contest.
Reggie Miller made a great point about how Michael Jordan entered the dunk contest a few times to prove that he was the best, and that's the kind of killer instinct that some say LeBron lacks. Kobe Bryant won the 1997 dunk contest, so it's up to LeBron to prove that he has the chops to beat Dwight Howard and Nate Robinson. LeBron sort of acts like he's above it, and that's not good. (Oh, by the way, LeBron claims he can dunk on a 13′ rim. Now that's something I'd like to see.)
Posted in: NBA, Television
Tags: Cheryl Miller, Daequan Cook, Derrick Rose, Devin Harris, Dwight Howard, Dwight Howard dunk contest, Erin Andrews, John Paulsen, Kevin Smith, LeBron, LeBron James, Nate Robinson, Nate Robinson dunk contest, Rashard Lewis, Reggie Miller, Rudy Fernandez, Skills Competition, Slam Dunk Contest, Three-Point Shootout