Suns interested in Rudy Gay? Aldridge not a part of Blazers' offer?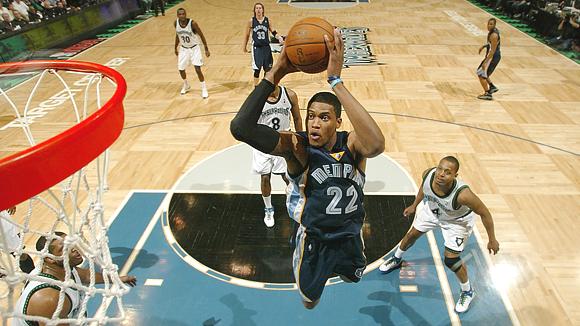 Yahoo! Sports has an update on the Amare Stoudemire trade talks.
The proposed multiplayer trade is fluid, but the framework would include the Suns receiving a package that includes Miami forward Shawn Marion and Grizzlies forward Rudy Gay. Miami would send rookie Michael Beasley to the Grizzlies.

"Miami knows that they can't get this done directly with Phoenix," one league executive said. "The big thing is that they know the Suns like Gay."
Miami apparently has to get the Grizzlies involved because the Suns aren't all that high on Beasley, but they do like Gay. So Phoenix would get Marion (cap relief) and Gay (young star), while Stoudemire would go to the Heat and Beasley to the Grizzlies.
The Memphis Commercial Appeal reported that the Grizzlies rejected a Suns' proposal of Gay, forward Hakim Warrick and point guard Mike Conley for Stoudemire.
I would hope so.
Before the 2008 NBA draft, the Grizzlies tried hard to trade up to get Miami's No. 2 pick to draft Beasley. The teams never came to terms, and Memphis ultimately worked the draft-day O.J. Mayo-Kevin Love trade. Gay hasn't meshed well with Mayo, who took over as the Grizzlies' top scorer.
Gay's production is down from last season (PER: 17.34 to 14.85). I'm not sure that Beasley is going to mesh any better with Mayo. Both players are shoot-first types and there may not be enough basketballs to go around. Gay's numbers are pretty much the same across the board, but his three-point percentage is down, which is dragging down his overall FG%. He's still getting the same number of shots, so I'm not really clear on how Mayo is adversely affecting his game.
The Portland Trail Blazers also have discussed a trade for Stoudemire, and sources said they have offered the expiring contract of Raef LaFrentz and rookie point guard Jerryd Bayless. The Chicago Bulls also continue to talk with the Suns about Stoudemire.
The note about the Blazers is interesting, because a previous story had LaMarcus Aldridge involved in the trade. Without Aldridge, that trade isn't worth it for the Suns. (And if I'm the Blazers, I don't think I'd be giving up Aldridge to get Stoudemire.)