Are the Suns thinking about trading Amare?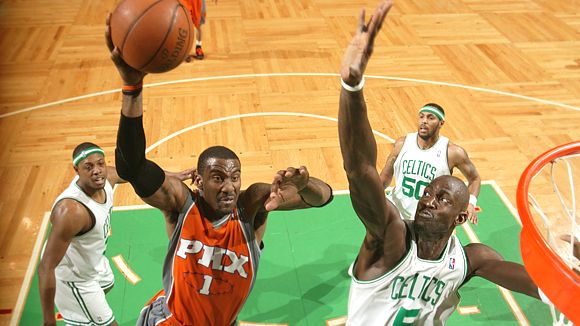 ESPN's Chad Ford said that they are in his chat yesterday.
Jason (Culver City CA) [via mobile]: What are the chances of Amare Stoudemire getting traded before the deadline?

Chad Ford: Last week I said 10 percent. But I think that was low. The more people I talk to in the league, the more I think it's something in the neighborhood of 30 to 40 percent. Steve Kerr and Robert Sarver are taking a hard look at the team right now. If they decide to blow it up, Stoudemire will be the first to go.
Let's see, you're thinking about blowing the team up and your first move is to trade away your 26 year-old All-Pro forward/center? This is nonsensical. Why not trade away Shaq, who is 36 and due to make $20 million next season? Or Steve Nash, who is 34 and has just one more year on his contract?
Why would you trade away your best player, especially when he's only 26?
I criticized Steve Kerr's decision to break up that Suns team that was a couple of bench-clearing suspensions away from upending the eventual-champion Spurs in the 2007 playoffs. His first move as GM was to trade Rudy Fernandez to the Blazers for cash considerations. Then there was the Marion-Shaq trade, which forced Mike D'Antoni out, because he doesn't know how to coach a slow-it-down team. Seemingly every move Kerr makes backfires.
The Suns are now 26-20, they've lost seven of their last 11 games and are hanging on to the #8 seed in the West. They are a shell of that exciting team that we saw in those playoffs two years ago and if Carlos Boozer can come back strong for the Jazz, Phoenix is in serious danger of missing the postseason altogether.
Now they're thinking about trading away their best player, who is only 26 and entering the prime of his career.
That's just great.