Why Allen Iverson shouldn't be starting in the All-Star Game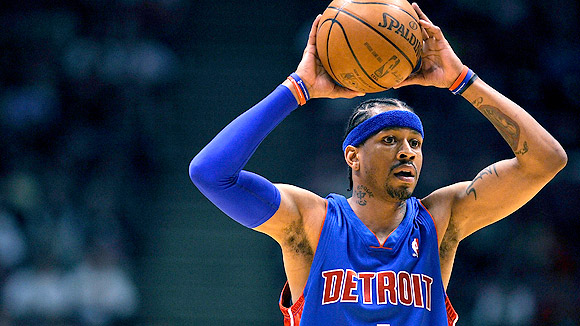 The starters for the NBA All-Star Game have been announced, and Allen Iverson is amongst the starters in the East. In my picks, I didn't even have him on the roster, much less in the starting lineup. The Pistons are a mediocre team and AI is having one of the worst seasons of his career. Maybe that's not his fault, but it doesn't mean that he should get a golden ticket into the All-Star Game every season. More importantly, there are at least five guards — Joe Johnson, Devin Harris, Jameer Nelson, Ray Allen and Vince Carter — that are more deserving. With AI's inclusion, there won't be room for at least two of them in Phoenix.
Here's a look at their stats…
AI: 16.15 PER, 17.9 ppg, 5.4 apg, 3.3 rpg, 1.6 spg, 42% FG, 28% 3PT
JJ: 18.85 PER, 22.0 ppg, 6.0 apg, 4.5 rpg, 1.0 spg, 43% FG, 35% 3PT
DH: 23.16 PER, 21.8 ppg, 6.4 apg, 3.0 rpg, 1.6 spg, 45% FG, 32% 3PT
JN: 20.87 PER, 17.1 ppg, 5.3 apg, 3.4 rpg, 1.2 spg, 51% FG, 44% 3PT
RA: 17.96 PER, 18.0 ppg, 2.7 apg, 4.5 rpg, 0.9 spg, 50% FG, 41% 3PT
VC: 20.6 PER, 21.5 ppg, 4.7 apg, 5.0 rpg, 1.0 spg, 44% FG, 40% 3PT
And here's an argument for each guy…
Joe Johnson: The Hawks are a game ahead of the Pistons and JJ's stats are better in every category except for steals. I think Johnson deserves to start.
Devin Harris: The Nets are only 5 1/2 games behind the Pistons — let's face it, both teams are mediocre — and Harris' numbers are vastly better than Iverson's.
Jameer Nelson: He's having the second-best season of anyone on the Magic, and they are 8 1/2 games ahead of the Pistons. Iverson's scoring is a bit better, but Nelson is a far better shooter and is as good or better than AI in every other category.
Ray Allen: They have the best record in the East, 10 games better than the Pistons. Allen is a far better shooter, and while his assist and steal numbers are lower than AI's, he's a better rebounder.
Vince Carter: See Devin Harris. Seriously, I prefer all these other guys to Carter, but I prefer Carter to Iverson. His numbers are better pretty much across the board and the Pistons and Nets aren't too far apart in the standings. Carter and Harris are carrying the Nets while AI has more help — Rasheed Wallace, Rip Hamilton, Rodney Stuckey and Tayshaun Prince (who is more deserving of an All-Star nod due to his terrific defense and good stats).
Since AI is in, that means we have to cross two players off that list of five (as there is likely to be just three additional guards on the roster). I would go with Johnson, Harris and Nelson. The Magic deserve two All-Star nods and Nelson's numbers are a bit better than Ray Ray's. As for Carter, the Nets probably don't deserve two spots.