2008 Year-End Sports Review: What We Already Knew
While every year has its own host of surprises, there are always those stories that simply fit the trend. Sure, it can get repetitive, but if we don't look back at history aren't we only doomed to repeat it? Every year has its fair share of stories that fell into this category, and 2008 was no different.
Our list of things we already knew this year includes the BCS' continued suckiness (Texas-Oklahoma), how teamwork wins championships (KG, Pierce and Ray-Ray), and the #1 rule for carrying a handgun into a nightclub – don't use your sweatpants as a holster. (Come on, Plax. Really? Sweatpants?)
Don't miss the other two parts of our 2008 Year-End Sports Review: "What We Learned" and "What We Think Might Happen."
| | |
| --- | --- |
| | Brett Favre can't make up his mind. |
The biggest story of the summer was all the drama surrounding Brett Favre and the Green Bay Packers. This saga has been covered to death, but there's one detail that never seemed to get that much play. At the start, it looked like the Packers were making a bad decision by moving on so quickly even when Favre decided he wanted to return. But when the news broke about Favre's near-unretirement in March, the Packers stance became much more clear. They were ready to take him back after the owners' meetings, but he called it off at the last minute. At that point, the Packer brass was understandably finished with Brett Favre, much to the chagrin of a good portion of the Packer faithful. – John Paulsen
| | |
| --- | --- |
| | The Chicago Cubs' title drought is not a fans-only phenomenon. |
The 2008 Cubs were easily the best team the franchise has assembled in decades, but they still couldn't win a single game in the playoffs, and the reason is simple: the pressure finally got to them. Sure, they said the right things to the press about how they didn't care about what had happened in the past, but don't believe a word of it; there wasn't a single person in that dugout that wasn't fantasizing about being part of the team that finally, mercifully, ended the longest title drought in sports history. Once ESPN picked them to win it all, however, they were doomed. Ryan Dempster walked seven batters in Game 1, which matched his total for the month of September. The entire infield, including the sure-handed Derrek Lee, committed errors in Game 2. Alfonso Soriano went 1-14 with four strikeouts in the leadoff spot, while the team as a whole drew six walks and struck out 24 times. The team with so much balance in the regular season suddenly became the most one-dimensional team in baseball; take Game 1 from them, then sit back and watch them choke. And now that this group has lost six straight playoff games (the team has lost nine straight dating back to 2003), it isn't about to get any easier. Get a helmet, Cubs fans. – David Medsker

| | |
| --- | --- |
| | If you're going to wear sweatpants to a nightclub, leave the gun at home. |
If winning a Super Bowl is the pinnacle of an NFL player's career, than shooting yourself with your own gun in a nightclub has to be rock bottom. Case in point: Plaxico Antonio Burress. Just 10 months after helping the New York Giants beat the New England Patriots in Super Bowl XLII, Burress accidentally shot himself in the leg while at a nightclub. Apparently the (unregistered) gun was slipping down his leg and when he tried to grab it to keep it from falling, the lucky bastard wound up pulling the trigger and shooting himself. And that wasn't the worst of it because as Plaxico found out, New York has some of the toughest gun laws in the nation. He was arrested, but posted bail of $100,000 and is scheduled to return to court on March 31, 2009. If convicted of carrying a weapon without a license, he faces up to three and a half years in jail. He shouldn't expect special treatment, either. The mayor of New York wants to be sure that Burress is prosecuted just like any other resident of NYC. The Giants, meanwhile, placed him on their reserve/non-football injury list and effectively ended his season. While "Plax" definitely deserves "Boner of the Week" consideration for his stupidity, what's sad is that in the wake of Washington Redskins' safety Sean Taylor's death, most NFL players feel the need to arm themselves when they go out. Maybe players can learn from not only Taylor's death, but also Burress's accident so further incidents can be avoided. – Anthony Stalter
| | |
| --- | --- |
| | Shaq can't rap. |
"You know how I be. Last week Kobe couldn't do without me." Those are about the only lyrics that are fit to print from Shaquille O'Neal's post-Finals obscenity-laced rap directed at former teammate Kobe Bryant. Clearly, O'Neal is not over Kobe and is rooting for him to fail. Has there ever been a superstar more obsessed with another player? It's kind of sad, really. Here's the full video of the rap – be sure the kids are out of the room. – JP
| | |
| --- | --- |
| | The BCS sucks. |
Only in college football can two teams finish with the same record but the team with the head to head edge does not benefit, as was the case with Oklahoma and Texas this year. The Longhorns beat the Sooners 45-35 (on a neutral field, mind you) on October 11 this season but when it came time for the BCS to decide which team should play Missouri in the Big 12 Championship Game, Oklahoma got the nod over Texas. Look, we understand a playoff in college football would still breed some controversy, but at least teams would be allowed to prove their worth on the field and not allow some computer to decide their fate. The BCS is set up to determine which two teams are the best in college football during the year, but how can it effectively do that when beating an opponent head to head is lumped into the same categories as strength of schedule, illogical rankings, vending sales, parking prices, players' shoe sizes and everything else? 2008 was just another example of how the BCS is still a gigantic mess. – AS
| | |
| --- | --- |
| | Tiger Woods is one tough dude. |
His victory over Rocco Mediate at the U.S. proved that Tiger can make golf look hardcore. Mediate challenged him all the way to the 91st hole before a visibly ailing Tiger prevailed as the U.S. Open champion. It turns out he was playing with serious knee and leg injuries. After the event, the golf legend had reconstructive surgery to the anterior cruciate ligament on his left knee and rehabilitation on a double stress fracture of his left tibia, which ended his season. But what a way to go out! – Christopher Glotfelty

| | |
| --- | --- |
| | Someone should sign Brendan Shanahan. |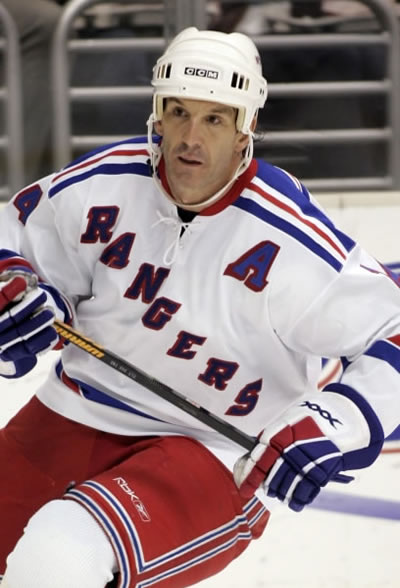 Aside from Mats Sundin, forward Brendan Shanahan is the best impact free agent available on the open market. He wishes to remain close to his New York home, which could give an Eastern Division contending team the edge in signing Shanahan for the remainder of the season. He has scored 650 goals in his stellar NHL career, including netting 23 goals in an injury-plagued season with New York Rangers last year. Still, Shanahan possesses a top-notch wrist shot that is absolutely devastating from the slot in the offensive zone; his booming slap shot could help an ailing powerplay from the point position, and his leadership could help mentor young forwards on an inexperienced team. Shanahan may not have the wheels available to play in an open ice game, but he still can be a valuable member to any team thinking they're one forward away from Stanley Cup contention. – Thomas Conroy
| | |
| --- | --- |
| | Trouble follows Pacman Jones wherever he goes. |
On April 23, the Dallas Cowboys acquired Adam "Pacman" Jones from the Tennessee Titans in exchange for a fourth-round pick in the 2008 NFL Draft. Dallas owner Jerry Jones then wisely paired his new investment with a bodyguard to help keep him out of trouble. On June 2, NFL Commissioner Roger Goodell gave Jones permission to start participating in organized team activities with the Cowboys, which included training camp practices and preseason games. It took Pacman just four months before he was involved in yet another off-field altercation, which was roughly his seventh off-field altercation since he came into the league in 2005. On October 8, Jones was involved in an incident in a hotel bathroom with the very same bodyguard Jones had hired to keep Pacman out of trouble. The bodyguard did not press any charges, but Goodell wasted zero time handing down a punishment and on October 14, Pacman was suspended four games. Jones has since been reinstated by the league, but was warned that just one more incident would lead to his total banishment from the NFL. The over/under on what date Pacman will get into his next off-field altercation has been set for New Year's Eve night, 2009. – AS
| | |
| --- | --- |
| | The mid-majors can ball. |
They may not play in a power conference, but the so-called "mid-major" programs like Davidson (with sharpshooting guard Stephen Curry) and Xavier (with senior stud Josh Duncan) were able to overcome the odds and advance to the Elite Eight. It's a sign of the times that a team like Xavier owned the #3 seed, so once #2 Duke fell to #7 West Virginia, the Musketeers were actually expected to make the West Regional Final. On the other hand, #10 Davidson had to upend #7 Gonzaga, #2 Georgetown, and #3 Wisconsin before losing to #1-seed (and eventual champion) Kansas, 59-57. As more and more blue chip players only spend a year or two at the college level, these mid-majors are able to keep most of their players for four years, developing the chemistry and experience necessary to compete with the big boys. Eventually, the sheer talent of the top teams takes its toll on the mid-majors, but it won't be long before one of these teams breaks through and wins a title. (That hasn't happened since UNLV did it, 18 years ago.) – JP
| | |
| --- | --- |
| | Misty May-Treanor and Kerri Walsh are the best beach volleyball team…ever. |
After May and Walsh won their second consecutive gold medal (which doulbed as their 108th consecutive win), Karch Kiraly pronounced them to be the best beach volleyball team – male or female – in the history of the sport. Who are we to argue? It looks as if the pair is going to take some time off to start their respective families, so this might be the last we see of the dynamic duo in international competition. Thanks for the memories, ladies. – JP
| | |
| --- | --- |
| | God has a Rayhawk. |
We called it in this here column last year: God would shine upon the newly 'Devil'-free Tampa Bay Rays and see to it that they play in the World Series. Yes, yes, we were joking when we said it – and we also predicted that they would win it all, over the Cubs, no less (our bad) – but never mind that; we had them in the Series before the season even started, which is more than Peter "Small Market Teams Suck" Gammons can claim. Of course, this meant that God had to forsake The The Angels Angels of Anaheim, which means a multi-billion-dollar lawsuit from Angels owner Arte Moreno citing breach of contract is surely in the works. Who knows; if Moreno wins the suit, then he'd have the money to pay both Mark Teixeira and CC Sabathia. The Lord works in mysterious ways, indeed. – DM
| | |
| --- | --- |
| | Parity rules in the NFL. |
How about this for parity: Three teams — the Dolphins, Falcons and Jets — that picked in the top 6 of April's NFL Draft were still fighting for a playoff berth through Week 15 of the 2008 season. Not only that, but all three teams still had a shot to win their division, too. On the flip side, four teams — the Jaguars, Seahawks, Chargers and Packers — that made the playoffs the previous year were hoping to avoid a last-place finish in their respective divisions at the end of the year. (Settle down, Packer fans. The Lions don't count.) Some NFL purists claim they don't like parity because they think the game is too watered down. But how can you not love how every team has a shot to make the playoffs on a yearly basis? How exciting has it been to watch Matt Ryan turn around the Falcons or Brett Favre transform the Jets into a Super Bowl contender? New teams emerge every year and for that, we love how parity has made the NFL the most popular league in America. – AS
| | |
| --- | --- |
| | It ain't over til it's over, especially when the team with the lead can't shoot free throws. |
It's not often that a team overcomes a nine-point deficit with two minutes to play. It's even tougher to pull off that kind of a comeback against an elite team like Memphis. But that's exactly what the Kansas Jayhawks did to win the 2008 NCAA Championship. Trailing 60-51 with 2:12 to play, the Jayhawks capitalized on four missed free throws by the Tigers and made its final four shots – including Mario Chalmers' clutch three-pointer with 0:09 to play – to force an extra period. Kansas started OT with a 6-0 run and Memphis couldn't recover. If you ever have trouble convincing your kid to practice his free throws, just show him the final two minutes of that game. – JP
| | |
| --- | --- |
| | Roger Clemens is (allegedly) a liar. |
Last December, former MLB pitcher Roger Clemens' name was mentioned 82 times in the Mitchell Report, which was Senator George Mitchell's 20-month investigation into the use of anabolic steroid use and human growth hormone in baseball. On January 6 of this year, Clemens appeared on "60 Minutes" to deny the allegations. On January 28, his agent, Randy Hendricks, released an 18,000-word statistical report in efforts to once again refute the claims that his client used performance-enhancing drugs. On February 13, Clemens appeared before a Congressional committee, along with his former trainer Brian McNamee, who claimed he had documentation that proved his ex-client had used performance-enhancing drugs throughout his MLB career. The case is now in the hands of federal prosecutors. To date, there's still no hard evidence that Clemens used HGH or other banned substances, but given Mitchell's report and McNamee's testimony, things don't look good for the potential Hall of Fame pitcher. Every man deserves the right to his day in court, but there's plenty of evidence that says Clemens is a liar and worse, a cheat. And if it acts, walks and talks like a rat, it's probably a rat. – AS
| | |
| --- | --- |
| | The Cincinnati Bengals are one dysfunctional mess. |
Before the start of the 2008 NFL Season, wide receiver Chad Johnson publicly said that he wanted out of Cincy. The team didn't oblige his wishes, however, so he decided to legally change his name to Chad Ocho Cinco instead. Keeping up with their reputation, the Bungles decided to re-sign troubled wideout Chris Henry and also signed running back Cedric Benson, who had his own off-field issues with the Bears during the offseason. Did we mention the team also started the season 0-8? And that Carson Palmer has missed most of the season due to a shoulder injury? The Bengals are just one of those teams that appears destined to be forever doomed to NFL hell. – AS
| | |
| --- | --- |
| | The Redeem Team would live up to its nickname. |
After mowing through the competition en route to the championship game, Team USA – led by Kobe Bryant and LeBron James – survived a scare against a feisty squad from Spain (which featured Pau Gasol and NBA ROY candidate Rudy Fernandez) to win the gold medal, 118-107. The win culminated a three-year quest to overcome the embarrassment of the team's three-loss, third-place performance at the 2004 Olympics in Athens. Jerry Colangelo assembled a terrific team (securing Kobe was the key) and found great head coach to lead them. With that much focused talent and Coach K guiding them, it wasn't likely that they would falter. However, the gold medal game was closer than the score, and it's a shame that it was only on in the middle of the night in the U.S. – JP
| | |
| --- | --- |
| | Signing Edgerrin James to a huge contract was probably a bad idea. |
Two years ago, the Arizona Cardinals signed free agent running back Edgerrin James to a four-year, $30 million contract despite the fact that he was already 28 and had plenty of mileage on him after being the Colts' workhorse for seven years. After rushing for just 72.4 yards per game in 2006 and 76.4 YPG in 2007, James was essentially replaced by Tim Hightower midway through the 2008 season. What's worse, after the team made the move to Hightower, James asked to be released so that he could play elsewhere. Granted, a $30 million contract didn't destroy the Cards' salary cap situation, but they ignored obvious warning signs (i.e. age, previous workload) when they signed him and they now have a disgruntled 30-year old backup running back making roughly $7.5 mil a year. While they were criticized at the time for not giving into his contract demands, the Colts now look awfully wise for not overpaying James when he became a free agent. – AS
| | |
| --- | --- |
| | Rafael Nadal is the next great tennis superstar. |
He had already proved his worth at the French Open over the years, but in 2008, Nadal won Wimbledon and took the gold in Beijing Olympics. At just 22 years of age, Nadal has already won five Grand Slams. Having won four straight French Opens, many say Nadal is the most dominant clay court player in the history of tennis. His victory over Roger Federer at Wimbledon was not only the greatest tennis match ever, but undoubtedly one of the most amazing displays of athleticism and endurance in recent memory. Roger Federer will soon hold the record for most Grand Slams – a record that no current player is close to touching. However, Rafael Nadal has the same ability Federer exhibited when he was 22. If Nadal can replicate that level of play he conjured up at Wimbledon, he will continue to rack up Grand Slam titles and, before long, he'll break Federer's record. – CG
| | |
| --- | --- |
| | Teams that spend the most don't always win (or appear) in the Fall Classic. |
Of the five clubs that spent the most in 2008 – the Yankees, Tigers, Mets, Red Sox and White Sox – only two made the postseason. And neither appeared in the World Series. The two teams that did appear in the Fall Classic – the Phillies and Rays – had the 13th and 29th largest payrolls in the league, respectively. Tampa Bay is a prime example that baseball teams don't have to spend truckloads of money to win. The Rays spent just $43,820,598 on player salaries this year, which was $165,260,981 less than the Yankees, and yet it was Tampa that won the AL East and not the Bronx Bombers. The Rays proved the making sound choices in the draft, wise trades, and not overspending for free agents is a better way to build a team than to recklessly construct a club with big name acquisitions. Think the Yankees learned anything from the Rays this year? We doubt it. They're already courting the likes of CC Sabathia, A.J. Burnett, Manny Ramirez and Mark Teixiera – some of the biggest names on the 2008-2009 free agent market. – AS
| | |
| --- | --- |
| | The St. Louis Rams are just a bad, bad football team. |
The last time the St. Louis Rams made the playoffs, Eli Manning was a rookie, Michael Vick was still in the NFL and Ben Roethlisberger led the Steelers to a 15-1 record. But times have definitely changed for the Rams, who are assured of their third losing season in the last four years. Even worse, there doesn't seem to be much hope on the horizon. The offensive line might be the worst in all of football, Marc Bulger stopped trying after receiving a huge contract extension before the start of the 2007 season, and a-holes like Richie Incognito would rather put blame on the fans for the team's troubles instead of the team itself. The Rams also fired their head coach (Scott Linehan) in the middle of the season and his replacement, former defensive coordinator Jim Haslett, appears to be a dud as well. The Rams will no doubt be picking at the top of the draft again in 2009 and are certainly a long ways from being competitive again. – AS


| | |
| --- | --- |
| | The MLS has a terrible public relations department. |
The MLS profile is so low that even its superstars are unknowns to the American public. The MLS Cup, broadcast on ABC at 3:30 PM ET on a Sunday, received a 0.7 rating. Obviously unable to compete with the "other" football, the MLS needs to put up more money to get a better timeslot. It's amazing how a sport so popular all over the world can't seem to gain a foothold here in the United States. – CG
| | |
| --- | --- |
| | It's easy to overreact in the NBA. |
After the Lakers acquired Pau Gasol for Javaris Crittenton, Pau's brother and a bag of peanuts, two rivals made big trades of their own. The Suns traded Shawn Marion to the Heat for an aging Shaquille O'Neal, breaking up a Phoenix team that was a couple of bench-clearing suspensions away from upsetting the eventual champion Spurs a year earlier. Marion was (reportedly) starting to become a distraction, so the trade at least made a little bit of sense, unlike the Mavs' decision to trade the about-to-breakout Devin Harris along with two first round draft picks to the Nets for an aging Jason Kidd. While the Lakers made it to Finals, both the Suns and Mavs were bounced out of the first round of the 2008 Playoffs. This year, the Lakers are the class of the West while the Suns and Mavs are both hovering just above .500. – JP
| | |
| --- | --- |
| | Monte Kiffin runs one of the best defenses in the NFL. |
There are a couple of NFL coaches that don't get nearly enough credit for how good they are. Tampa Bay Buccaneers' defensive coordinator Monte Kiffin is one of those coaches. Perhaps no defensive coordinator in the league schemes better on a game-to-game basis than Kiffin. Furthermore, he gets the most out of his players despite their age or experience and rarely does his unit get torched for a ton of points. In 2008, the Bucs have the ninth-best defense in the league, have allowed just 17.9 points per game and once again the defense has been the strength of Tampa's playoff-bound team. But since he's planning to join his son at the University of Tennessee, the Bucs and the NFL will lose one of the most underrated defensive coordinators in the history of the league. – AS
| | |
| --- | --- |
| | The Kimbo Slice experience wasn't built to last. |
Kevin Ferguson, better known to the American public as Kimbo Slice, rose to stardom by fighting random nobodies in backyards on YouTube. Somehow Slice rode his YouTube fame to into a career as a mixed-martial arts fighter and a role on a prime time network event called EliteXC. On October 4, Slice was supposed to take on Ken Shamrock as part of CBS's "Saturday Night Fights," but Shamrock received a cut above his left eye during a warm up and couldn't fight. So Seth Petruzelli, a former K-1 kickboxer turned MMA fighter, replaced Shamrock and promptly knocked Slice out 14 seconds into the first round. – AS
| | |
| --- | --- |
| | If three stars are willing to work together, great things can happen. |
Some questioned the trio's willingness to share the ball, but Paul Pierce, Kevin Garnett and Ray Allen didn't have any problem putting their egos aside in pursuit of an ever-elusive NBA Championship. After a first-round scare against the Hawks (where they couldn't win on the road), the C's plowed through the competition in the East before working over the Lakers in the Finals. While Pierce, KG and Ray Ray stole most of the headlines, the rest of the Celtics had much to do with the team's success, especially point guard Rajon Rondo and utility man James Posey. – JP
| | |
| --- | --- |
| | NASCAR's sponsorship dollars are shrinking. |
In the past year, many long-time NASCAR sponsors have ended their agreements with smaller racing teams in favor of signing with larger, more successful teams. It's no longer good enough to have your name on the hood of a competitive automobile; instead, sponsors want to be associated with drivers turning into the winner's circle on a weekly basis. Sponsors moving from one team to another are not a new concept in NASCAR, but it hasn't ever happened at this frenetic of a pace. Many in NASCAR fear that with the current economic recession, it could reduce the amount of sponsorship dollars available this off-season. – TC
| | |
| --- | --- |
| | Mike Singletary is a great motivator – even when he has to pull down his pants to prove a point. |
After the San Francisco 49ers fired head coach Mike Nolan following the team's 2-5 start, he was replaced by defensive coordinator Mike Singletary, who was highly regarded as an emotional leader during his playing days and a great motivator for young players as a coach. But his first game as the interim coach was a disaster as the Seahawks built a 20-3 halftime lead and eventually beat San Fran 34-13 on their home field. After the game, Singletary gave a postgame speech that rivaled the likes of Denny Green's "They are who we thought they were" meltdown. But that was only the tip of the iceberg. Word spread that Singletary actually dropped his pants during his halftime speech in an effort to relate to them that the Seahawks were – for lack of a better term – making fools out of them. The speech apparently worked because the Niners almost upset the Cardinals the following week in Arizona on Monday night, then thumped the Rams 35-16 in Week 11. Although maybe the players turned in a better effort in hopes that they wouldn't be subjected to seeing their coach drop his trou again in the locker room. – AS
| | |
| --- | --- |
| | Paul Newman loved racing. |
On September 27th, actor Paul Newman died from his long battle with lung cancer. He was famous for starring in "Butch Cassidy and the Sundance Kid," "The Sting," and "The Verdict." He also founded "Newman's Own" a food company that donated all of its profits to various charities. But Newman was also recognized as a racing enthusiast and became involved in the sport after filming "Winning" in 1969. He competed in his first race in 1972 and finished in second place at the 1979 LeMans 24-hour endurance race. Later, Newman co-founded a racing team with Carl Haas, and at the age of 70, he became the oldest driver to compete in a sanctioned race. He often joked that racing was his escape from his day job. He will be missed. – TC
Follow the Scores Report editors on Twitter @TheScoresReport. You can also follow TSR editor Gerardo Orlando @clevelandteams and @bullzeyedotcom, and you can follow TSR editor Anthony Stalter @AnthonyStalter.
Picture of the Day
Enjoy a daily photo from Bullz-Eye.com of one of their beautiful models.
Improve your game today!
You've got to brush up on your game to get the girl! Find your hookups with this online dating guide.
Sexy Girls and Cars
Check out this slideshow of hot babes and cool cars.
Posted in: Boxing, College Basketball, College Football, Fantasy Football, General Sports, Golf, Humor, Mixed Martial Arts, MLB, NBA, NFL, NHL, Soccer, Super Bowl, Tennis, The Olympics, Video
Tags: 2008 Tampa Bay Rays season, A.J. Burnett, Aaron Rodgers, Adam Jones, Alfonso Soriano, Arizona Cardinals, Arizona Cardinals sign Edgerrin James, BCS Mess, beach volleyball photos, Big Three, Boston Celtics, Boston Red Soz, Brendan Shanahan, Brett Favre, Brett Favre retirement, Brett Favre traded, Brett Favre unretirement, Brian McNamee, Bucs defense, Carson Palmer, CC Sabathia, Chad Johnson, Chad Johnson changes name, Chase Cup, Chicago Cubs, Chris Henry, Cincinnati Bengals, Cinderellas, Coach K, college footbal playoff, college football playoff system, Dallas Cowboys, Dallas Mavericks, Davidson, Derrek Lee, Devin Harris, Dwayne Wade, Edgerrin James, Gasol trade, God has a Rayhawk, Green Bay Packers, Jason Kidd, Jerry Colangelo, Josh Duncan, Kansas Jayhawks, Kerri Walsh, Kevin Garnett, Kimbo Slice, Kimbo Slice knocked out, Kimbo Slice KO'd in 14 seconds, Kobe Bryant, Lane Kiffin, LeBron James, Los Angeles Lakers, Manny Ramirez, Marc Bulger, March Madness, Mario Chalmers, Mario Chalmers shot, Mark Teixeira, Matt Ryan, May and Walsh, mid-majors, Mike Krzyzewski, Mike Singletary, Mike Singletary drops his pants, Mike Singletary post game interview, Misty May, Misty May-Treanor, MLB salary cap, MLS, MLS Cup, MLS PR department, MLS struggles, Monte Kiffin, Monte Kiffin defense, Monte Kiffin joins son at Tennessee, Nadal Federer rivalry, Nadal vs. Federer, NASCAR, NASCAR sponsorships, New York Yankees, NFL parity, Ocho Cinco, Oklahoma Sooners, Pacman Jones, Pacman Jones bodyguard, Pacman Jones in trouble, Pau Gasol, Pau Gasol trade, Paul Newman, Paul Newman racing, Paul Pierce, Peter Gammons, Phoenix Suns, Plaxico Burress, Plaxico Burress gunshot, Plaxico Burress shoots himself, Plaxico Burress shot, Plaxico Burress suspended, Plaxico Burress sweatpants, Rafael Nadal, Ray Allen, Rayhawks, Redeem Team gold medal, Redeem Team vs. Spain, Richie Incognito, Richie Incognito comments on Rams fans, Richie Incognito criticizes Rams fans, Rocco Mediate, Roger Clemens, Roger Clemens steroids, Roger Federer, Rudy Fernandez, Ryan Dempster, Scott Linehan, Seth Petruzelli, Seth Petruzelli beats Kimbo Slice, Shaq Kobe feud, Shaq rap, Shaq rap Kobe, Shaq trade, Shaquille O'Neal, Shawn Marion trade, St. Louis Rams, Tampa Bay Buccaneers, Tampa Bay Rays, Tampa Bay Rays success, Texas BCS, The Mitchell Report, The Redeem Team, Tiger Woods, Tiger Woods injured, Tiger Woods U.S. Open, Tim Hightower, What We Already Knew: 2008, Wimbledon, women's beach volleyball, Xavier