Allen Iverson debuts in Pistons' loss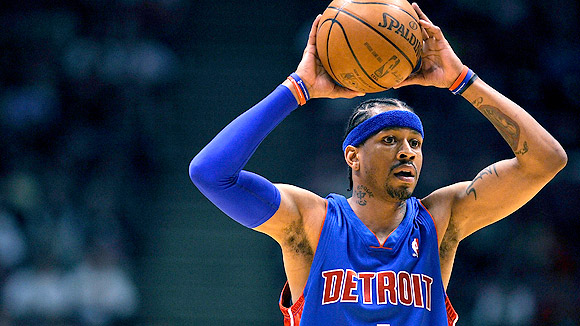 It was an inauspicious beginning to the AI Era in Detroit.
Iverson himself was respectable (24p, 6a), but the Pistons lost to the Nets, 103-96.
According to ESPN's Chris Sheridan, the Billups-for-Iverson trade might be more about how Detroit feels about Rodney Stuckey than either of the players involved.
When Detroit needed buckets in the fourth quarter, it was Stuckey running the show at the point, with Iverson off the ball.

And when the Pistons needed stops in the second half, it was Stuckey who continually was getting burned by Devin Harris (career-high 38 points, with 22 of his 24 free throw attempts coming in a second half in which Detroit surrendered 64 points to one of the NBA's worst teams). All that time, Pistons coach Michael Curry refused to switch Iverson onto Harris — even as Stuckey was committing five fourth-quarter fouls on Harris.

"Stuckey's the point, and Harris is the point. What we do here in Detroit, you guard your position. And when he comes into the game, Allen slides to the 2. and if Devin Harris is outplaying you, you're going to have to get better. That's what you're going to have to do — play your matchup," Curry said.
A couple of things jump out from this game: 1) Devin Harris blew up, and he was on my list of "Six NBA players who are about to break out" and 2) Curry refuses to go with the best matchup defensively, instead insisting that each player guard his position (even if it is to the detriment to the team).
I don't know too many coaches that don't try to utilize the best matchups defensively. Regular readers know that I played for (current UW coach) Bo Ryan at the University of Wisconsin-Platteville. The other starting forward was the better defender, so Ryan would have him cover the other team's best scoring forward. That left me with an "easier" matchup, and since I was one of my team's primary scorers, going with that matchup would save my legs so I could hit crucial jump shots at the end of the game.
So why is Curry insisting that Stuckey – who is actually more of a combo guard – cover the lightning-quick Harris when he has his own lightning-quick guard on the court? It might be pure stubbornness, thickheadedness or he could be trying to light a fire under Stuckey defensively.
But back to the decision to play Iverson off the ball. More and more this trade is looking like one that is meant to keep butts in the seats for this season while giving the team salary cap flexibility to sign one or two big name free agents over the next two summers. Joe Dumars likely saw that, with Billups, the team was going to be competitive, but it wasn't going to be a legitimate contender. With the backcourt shakeup, it looks like the team is going to give the ball to Stuckey and ask him to create, and it doesn't really matter if this is the best thing for the 2008-09 Detroit Pistons.