Say goodbye to LeBron, Cleveland
Braylon Edwards speaketh the truth:
"LeBron (James) isn't a Cleveland guy. LeBron only plays for the Cavaliers, and who knows if he even likes the Cavaliers? He doesn't like the Indians. He doesn't like the Browns."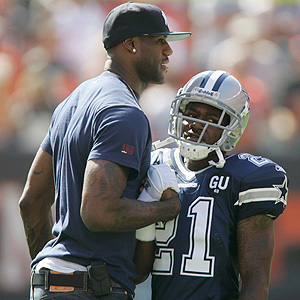 The Browns receiver made his comments after LeBron James hung out on the Dallas sidelines during pregame warmups prior to the Cowboys/Browns game Sunday afternoon, hugging Terrell Owens and Adam "Don't Call Me Pacman" Jones, chatting with owner Jerry Jones, and wearing a Yankees cap.
Of course, it was a Yankees cap that first had people questioning LeBron's loyalty to his hometown. As a (tortured) Cleveland fan, I was pretty fired up when LeBron wore a Yankees hat to Jacobs Field for the Indians' opening playoff game against the Yanks last year:
Cleveland is most definitely a football city, but LeBron is without question the face of Cleveland sports right now. That doesn't mean that he has to root for every Cleveland sports franchise, but he crossed the line when he wore a Yankees hat to the game last night. That'd be like David Ortiz donning a Peyton Manning jersey during a Colts/Pats game in New England or, even worse, Tom Brady wearing a Yankees hat to a Sox/Yankees game at Fenway. You just don't do it.
At the time, what irked me most wasn't that LeBron wore the hat to the game, but that he taunted the fans — who are, of course, his fans during basketball season — by holding the hat above his head and egging on the crowd. It was an immature and classless move, and at the time I said that it spoke very poorly of his so-called loyalties to his hometown.
And now this.
As I mentioned previously, athletes are fans too, and they can root for whomever they want. I'm not ragging on LeBron for being a Cowboys fan or a Yankees fan or even a Bulls fan, all of whom he rooted for as a kid growing up in Akron. I do think it's fair to call him a frontrunner, since all three of those teams were winning titles back then, but that's not the point.
In fact, LeBron choosing to publicize his allegiances in front of Cleveland fans and, in the Indians/Yankees case, even taunting the fans in the process, isn't even the point anymore. The point now, as Braylon Edwards pointed out, is simple: LeBron James isn't a Cleveland guy. And that's very bad news for the Cavaliers and their fans.
LeBron can opt out of his contract after the 2009-10 season, at which point the Cavaliers will be able to offer the star forward more money than any other team in the league. That may sound like a big advantage for the Cavs, and maybe it will prove to be. But working against Cleveland is the fact that LeBron's contract with Nike will reportedly pay him more if he moves to a larger market like New York or LA. Maybe that's just a rumor, because I haven't found any concrete numbers on this, but it's a widely reported rumor that LeBron has never bothered to shoot down. Add on top of that the fact that LeBron would make even more money in endorsements playing in a big city while also inflating his already enormous worldwide popularity, and however many more millions the Cavaliers can offer LeBron will look like chump change in the final equation.
And then, of course, there's LeBron's buddy Jay-Z, who just happens to be part owner of the New Jersey Nets. The Nets just happened to shed a bunch of salary by trading Richard Jefferson this offseason. They also just happen to be planning to move to Brooklyn and open a brand new arena in 2010. And Brooklyn just happens to be LeBron's "favorite borough" in his favorite city of New York.
Throughout all of this city-wide "will he stay or will he go?" fretting, the one ace the fans thought they had up their sleeve was the fact that LeBron was a hometown guy who actually wanted to stay in Cleveland. Well, I'm not buying it, and neither is Braylon Edwards:
"He's a guy from Akron who likes everybody but his hometown. I don't know how that's possible, but it is what it is, and he is who he is. You know, it's LeBron."
Preach on, Braylon.